Pivotal Government Regulations That Affect Texas Roadhouse
In addition to the factors we've discussed, regulations can also affect the company's profits. Let's look at some of the regulations that apply to TXRH.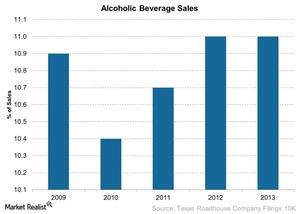 Government regulations
In the last part of this series, we looked at Texas Roadhouse's (TXRH) net profits. In addition to all the key factors we've discussed so far, regulations can also affect the company's profitability. Let's look at some of the regulations that apply to TXRH.
Article continues below advertisement
Article continues below advertisement
The relevant regulations
Restaurant companies such as TXRH, Darden Restaurants (DRI), Bloomin' Brands (BLMN), Brinker International (EAT), and others included in the Consumer Discretionary Select Sector SPDR Fund (XLY) are subject to several regulations in the US to run their operations.
Restaurants require permits and licences from several agencies. The permits include:
alcoholic beverage control
menu labeling on nutrition
health and safety
sanitation
healthcare
building and fire codes
environmental laws
land use
In the above chart, you see that 11% of TXRH revenues in 2013 came from alcoholic beverages. But to sell these beverages, the company needs to acquire permits for each restaurant location.
The company is also subject to labor laws that govern minimum wage, citizenship requirements, health benefits, working conditions, overtime pay, et cetera.
Mitigating risk through liability coverage
TXRH is also subject to "dram shop" statutes, which regulate that an establishment that serves alcohol is liable for the damages caused by the intoxicated person. The company currently carries comprehensive liquor liability insurance coverage of $125 million.
So far, we've discussed TXRH's expansion plans, menu, competition, revenues, reasons for revenue growth—including same-store sales and unit growth—costs, operating and net profit margins, and regulations. Let's next see how the company's stock has performed over five years, given all this information, in the next part of the series.