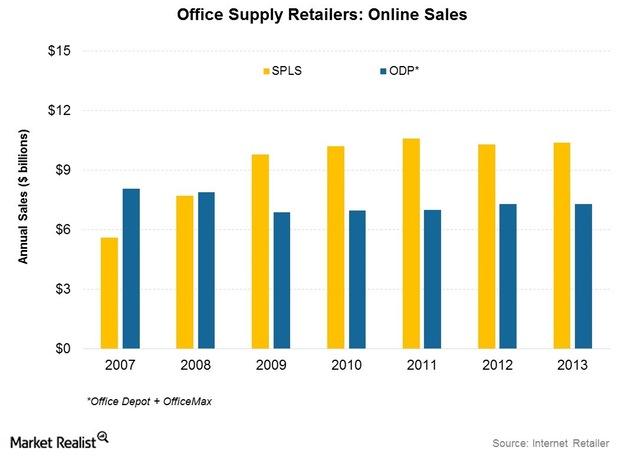 Why Online Sales Are A Competitive Advantage For Staples
Online sales
Office Depot (ODP) was ranked ninth on the list of the top ten US online retailers. According to Internet Retailer, ODP had annual online sales of $4.1 billion. When ODP's sales are combined with OfficeMax's (OMX) sales of ~$3.2 billion, that's still ~75% of the sales from Staples (SPLS).
The growth in ODP and OMX's combined sales fell—compared to SPLS. They were ~143% of SPLS's sales in 2007. This is just over $8 billion. That fell to $7.3 billion in 2013. This is ~70% of SPLS's sales of $10.4 billion. OMX's sales grew from 2009 to 2012. ODP's sales were stagnated.
Article continues below advertisement
ODP's strategies
ODP's online strategy is targeted at consumers with a service and customer experience requirement. It believes these customers aren't as sensitive to the Every Day Low Prices, or EDLP, charged by its larger online competitors like Amazon (AMZN) or big-box retailers like Walmart (WMT) and Target (TGT). The company plans to compete with the big-box retailers by being a promotional price player. It plans to lower prices during certain periods.
This year, ODP launched a co-branded website. It integrated OMX after the merger. However, ODP needs a concentrated e-commerce strategy if it's going to revive growth in online sales. As a result of the 2013 merger with OMX and its management strategy, ODP's online sales increased in 2014.
SPLS benefits from ODP-OMX merger
SPLS benefited from the merger and sales transfers from the closed ODP and OMX stores. SPLS reported that sales from its own stores were better than it expected.
SPLS also benefited from transfers while ODP launched its new co-branded website. SPLS is attracting online shoppers. Its tagline on its business-to-business, or B2B, website—www.quill.com—is an example. The tagline is "While others are merging, let us take care of you." The website gives customers the ability to search for products based on the item number from OfficeMax.com.
Article continues below advertisement
ODP may benefit
If ODP and SPLS merge, ODP will likely benefit significantly from the e-commerce platform and seamless omni-channel capabilities that SPLS is building. In the next part of this series, we'll discuss SPLS's technical e-commerce enhancements.
Data breach
However, sales may be impacted by the data breach at SPLS last week. We'll discuss this more in Part 18 of this series.