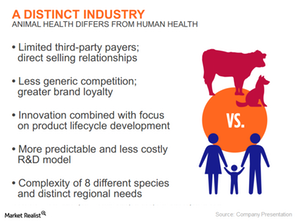 Must-know trends that drive Zoetis' growth
Why generic competition is low in Zoetis' markets
Activist fund Pershing Square Capital Management's 3Q14 letter to its shareholders highlighted that Zoetis Inc. (ZTS) is in an advantageous position since generic competition is low in the markets in which Zoetis competes. The fund reiterated points from Zoetis' recent investor day presentation and said several factors contribute to the success of branded products in the animal health industry.
Pershing Square said, "One of the most important contributors is the small size of animal health products. Only about 20 products in the industry have sales exceeding $100 million, with the majority of products having sales significantly below this level."
Article continues below advertisement
The fund further stated, "In addition, gross margins of branded animal health products are lower than branded human health products. This combination of smaller products and lower gross margins has made it difficult for generic manufacturers to compete in the animal health market." The fund said that "other factors that have contributed to the success of branded products include the lack of third-party payers in the animal health market and the fact that pet veterinarians directly dispense drugs to their customers."
Zoetis' comprehensive product lines
Zoetis has comprehensive product lines for both livestock and companion animals across each of its major product categories. At its latest investor day, the company highlighted innovation with Apoquel, its dermatology breakthrough for dogs, and improvement of its ceftiofur franchise for treating bovine respiratory disease (or BRD). It recently announced the reintroduction of Zoamix (zoalene), a versatile synthetic anticoccidial for the prevention and control of coccidiosis in broilers and turkeys.
Article continues below advertisement
Key trends driving growth for Zoetis
Zoetis noted in its November investor day presentation that the animal health industry is being driven by trends that are "providing sustainable, steady and visible growth." It added that demand for its products is driven by a growing population coupled with a rising middle class in emerging markets and increased relocation from rural to urban areas.
The company said in its annual filing that population growth and increasing standards of living drive the demand for improved nutrition, particularly animal protein. Population growth leads to increased natural resource constraints driving a need for enhanced productivity. With improving standards of living, there is also increased focus on food safety.
Growth in the companion animal medicines and vaccines sector is driven by economic development and related increases in disposable income. Factors such as increasing pet ownership, increased life expectancy of pets, and advances in animal health medicines and vaccines are also driving demand for the company's products.
This growth will also benefit Zoetis' peers in the sector such as Merck Animal Health, the animal health division of Merck & Co. (MRK); Merial, the animal health division of Sanofi (SNY); Elanco, the animal health division of Eli Lilly and Company (LLY); and Bayer Animal Health, the animal health division of Bayer AG (BAYZF).