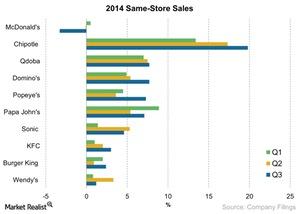 McDonald's Says "Strong Competitive Activity" Impacting Sales
Strong competitive activity impacting sales
McDonald's Corporation (MCD) management cited "strong competitive activity" as another reason for weak US same-store sales in November. During its earnings call in October, management admitted negative guest traffic and higher effective tax rates—44.4%—had a negative impact on its performance.
Article continues below advertisement
Article continues below advertisement
Competition
The chart above shows system-wide same-store sales for some of McDonald's key competitors. You can see that among them all, McDonald's performed the worst. Meanwhile, Chipotle Mexican Grill, Inc. (CMG) saw tremendous double digit growth with its fast-casual, high-growth format.
At the bottom of the chart, you can see that Popeyes Louisiana Kitchen, Inc. (PLKI), Sonic Corporation (SONC), KFC under the umbrella of Yum! Brands, Inc. (YUM), and the Wendy's Company (WEN) performed better in all three quarters of 2014. These four restaurants offer a more relevant comparison because each features the same quick-service format as McDonald's, as well as a similar menu.
Some of these companies are included in the SPDR S&P 500 ETF (SPY).
Management's claims regarding strong competitive activity appear to be true. Players such as Chipotle Mexican Grill, Qdoba under the umbrella of Jack in the Box, Inc. (JACK), and Domino's Pizza, Inc. (DPZ), which all operate using different formats, are giving McDonald's a run for its money. But why aren't other fast food restaurants affected by the competition to the same extent as McDonald's?
The US is experiencing a demographic shift and Millennials prefer healthier food. For more on this topic, read Part 19 of the series An in-depth overview of the US restaurant industry.
Clearly, McDonald's needs a big turnaround. Management listed some of its initiatives to this effect during its earnings call. We'll look at what they said in the next part of this series.