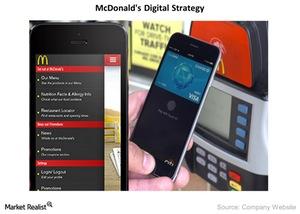 McDonald's To Focus On Digital And Marketing Strategies
McDonald's turnaround initiatives
In Part 4 of this series, we learned about the initiatives McDonald's Corporation's (MCD) management is planning to turn around the company's negative store sales. Menu simplification and more locally relevant menu selections were two of the ideas floated during the earnings call.
Article continues below advertisement
Digital strategy
Another initiative would see the company introduce technology at its restaurants, enabling customers to customize orders. Management also plans to drive promotion using mobile apps. Recently, McDonald's introduced Apple Pay to all of its outlets in the US, hoping to offer a more convenient payment option to its customers.
Other restaurant players such as Domino's Pizza, Inc. (DPZ), Dunkin' Brands Group, Inc. (DNKN), and Starbucks Corporation (SBUX) all have strong digital strategies that are used to drive loyalty programs. Some of these companies are included in the SPDR S&P 500 ETF (SPY).
Marketing strategy
McDonald's plans to revamp its marketing approach. You'll recall that the company sponsored the World Cup to promote its premium chicken and beef offerings, and yet its same-store sales still declined in the US to 3.2% in August. In Europe, same-store sales rose only slightly, by 0.5%.
So clearly, the company's marketing initiatives have failed to deliver of late. Considering how much McDonald's spends on advertising compared to others in the restaurant industry, the company needs a turnaround in this department. For more on this topic, read Part 11 of the series, An in-depth overview of the US restaurant industry.
Article continues below advertisement
Locally driven organization
To implement the above changes, the company believes it needs to restructure its organization. It wants to be more relevant to its local stores and appeal more to the local customer-base in each region. The company didn't offer any more specific details about this initiative during the call.
Further reading
At Market Realist, we publish earnings and company overviews of many different players in the food sector. Here's a sample:
A key company overview of Pilgrim's Pride Corporation
A business overview of Yum! Brands Inc.