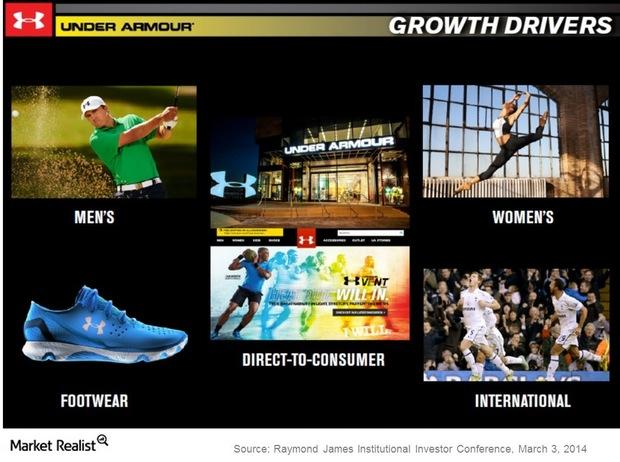 How Markets Are Pricing Under Armour Stock
Key growth drivers for Under Armour
Under Armour, Inc. (UA) has experienced above-average growth since its inception. And since 2005, both revenues and earnings per share (or EPS) have grown at an annual rate of around 30%. The company projects a similar increase in revenues in 2014.
Markets expect the strong growth trend to continue, and value Under Armour stock higher than the overall market and comparable firms. UA currently trades at a forward price-to-earnings multiple (or PE) of ~59x.[1. As on December 4] It's priced way above the estimated PEs of its peers:
Article continues below advertisement
Performance products in sportswear: A global phenomenon
One of the company's major growth drivers is its push toward performance products, for athletes and non-athletes alike. Although, revenues outside the US form a small percentage of UA's overall sales mix, the company believes that the trend toward performance wear is spreading worldwide and could be a catalyst for future growth, both in the US and abroad.
The company also believes that the world is moving toward a healthier lifestyle. A shift in consumer lifestyle trends would increase the demand for high-performance sportswear products.
The next part of this series looks at the company's strategies to grow revenues and earnings for its shareholders.