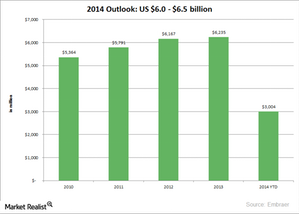 Market outlook for Embraer
By Ally Schmidt

Dec. 4 2020, Updated 10:53 a.m. ET
Emerging markets and international trade growth
The markets of North America and Europe are slowly reaching their saturation. Their economies are also witnessing slower growth compared to emerging economies around the world. This provides aircraft manufacturers with new opportunities to capture new markets. However, North America and Europe will continue to have a larger percentage share mainly due to large investments. Embraer (ERJ) also expects to replace its old jets as a future growth driver.
Article continues below advertisement
Forecasts predict that the civil aerospace market could see a global demand of about 27,000 new commercial airliners by 2031. An additional 24,000 regional business jets and 40,000 smaller rotary-wing aircraft are also expected. Altogether, the burgeoning market is expected to exceed $4.5 trillion over this period, with more than half of the new demand coming from emerging economies, including Brazil, China, Africa, the Middle East, and India.
Driven by increasing global economic activity and trade as well as globalization and liberalization of air traffic between countries, the demand for air travel and consequently new airplanes will likely continue to grow in the future. The domestic as well as international air passenger traffic is expected to increase on the same level in the future, creating demand for regional as well as larger aircraft, leaving ample room for the company to grow.
All this points to a great market outlook for Embraer. This will also likely benefit other players such as Boeing (BA), United Technologies (UTX), and Airbus (EADSY), some of which are part of the Top Guru Holdings Index ETF (GURU).