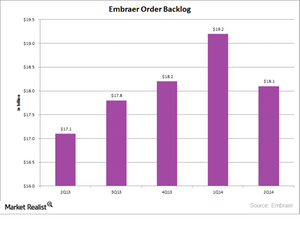 What makes Embraer successful?
Entry into the regional jet market
Since Embraer (ERJ) was initially formed as a government subsidiary, it focused on catering to local and government needs. But after its privatization in 1994, the company saw opportunities in the global aviation market. In the 1990s, the aviation industry saw the emergence of the following three new business models: large carriers that connected major hubs; regional carriers such as Virgin America (VA) and Alaska Air Group (ALK) that connect smaller places to major hubs; and low cost carriers such as Spirit Airlines (SAVE) that connect medium-sized communities with fairly large-capacity airplanes. Spirit Airlines forms a major holding of Industrials/Producer Durables AlphaDEX Fund (FXR).
While the aviation giants were busy battling for high-capacity aircraft in the United States and elsewhere, Embraer flew in and captured 86% of the regional jet market by 2000. Let's find out what makes Embraer successful.
Article continues below advertisement
Article continues below advertisement
Embraer's strengths
In order to find out what makes Embraer successful, we need to look at its major strengths and what the company has done right. The following summarizes some of the reasons for Embraer's success:
Embraer focused on creating value by lowering costs. It built better products that focused on reducing its customers' after-sales service requirements, which helped build a brand name and create satisfied customers.
Embraer has a home advantage. Over the past two decades, Brazil has evolved from an underdeveloped nation to one of the world's fastest growing economies. The company capitalized on the opportunity by fulfilling the demand for regional airlines. After mastering this segment, the company successfully duplicated it in other parts of the world.
Embraer focuses on consumers' needs and preferences and has invested a lot in research and development (or R&D). Embraer plans to invest $70 million in research and $320 million in development costs in 2014, which is modest by global standards. This has helped the company create a niche for itself. Embraer also designed and developed planes with 90–120 seats to satisfy demand in a vacant market.
Embraer has the advantages of cheaper yet highly skilled labor, the availability of local raw materials, low manufacturing costs, a strong brand name, and domestic market demand.
Embraer has a strong supply chain and distribution and sales network.
In the next article, let's look at Embraer's probable threats.