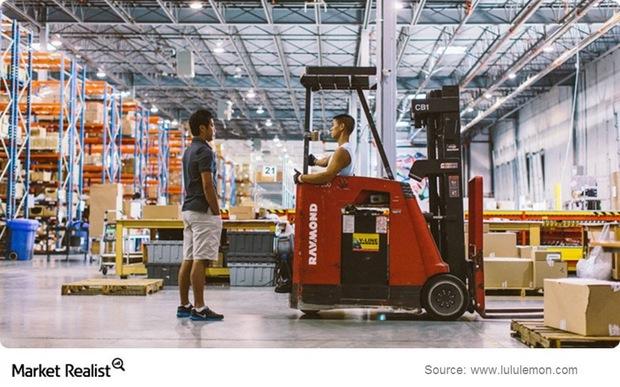 Lululemon Supplier, Manufacturer, And Distribution Overview
Lululemon's supply chain
The apparel industry outsources most manufacturing to overseas countries due to cost advantages. Lululemon Athletica (LULU) and its competitor firms, VF Corporation (VFC), BEBE Sport (BEBE), NIKE (NKE), Columbia Sportswear (COLM), The Gap (GPS), and Adidas (ADDYY), are no exceptions to this trend.
Article continues below advertisement
Article continues below advertisement
Sources of fabric
LULU owns no manufacturing facilities of its own, nor does it operate any. It sources the necessary fabrics from a select group of ~65 suppliers. Its trademarked Luon fabric is its largest fabric requirement, making up about 30% of the company's total fabric use. The fabric is sourced from a single supplier.
Manufacturer base
There were about 35 manufacturers producing the company's products as of the fiscal year ending February 2, 2014. Of them, five manufacturers produced ~63% of the company's products. In terms of geography, South and Southeast Asia accounted for ~67% of production, while ~23% of products were produced in China.
The company also maintained ~3% of its production in North America, primarily to ensure speed to market for its products. As we mentioned earlier, the apparel industry is highly seasonal and fashion trends predominate. It's essential for firms to respond quickly to market trends. LULU plans to maintain production in North America to that end.
Article continues below advertisement
Distribution facilities
The company has four distribution centers, located in Vancouver (Canada), Sumner (Washington), Melbourne (Australia), and—its most recent purchase—Columbus, Ohio. With the opening of the latest Ohio facility, LULU's transit time for online customers has fallen by 46%, averaging just under two days in the US.
LULU believes these distribution facilities should be enough to fulfil the company's needs, including sales growth, over the next several years.
New routing system
This July, LULU launched a new customer order management system, enabling more efficient routing of orders through its distribution centers. LULU's also launched a new backroom app this year, which proved very popular with customers. The app gives customers access to the company's online inventory while processing sales in-store.