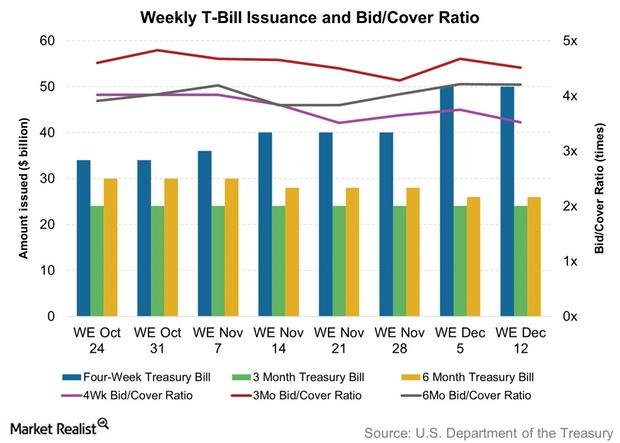 Higher market demand seen at the 13-week Treasury bill auction
By David Ashworth

Dec. 18 2014, Updated 2:27 p.m. ET
13-week Treasury bills auction
The U.S. Department of the Treasury auctioned 13-week, or three-month, Treasury bills (BIL)(MINT) worth $24 billion on December 8. The auction amount hasn't changed for several months now. Auction demand was lower in the week. The bid-to-cover ratio came in at 4.5x, down from 4.7x a week ago.
Article continues below advertisement
Yields analysis
Treasury bills, or T-bills, don't pay a coupon. They're offered at a discount to face value. They're redeemable at par on maturity. The high discount rate for the December 8 auction came in at 0.025%. It was the same as what was recorded the previous week.
Market demand rises
Market demand increased at last week's auction. The percentage of indirect bids climbed from 24.1% to ~31% week-over-week. Direct bids were also higher. They rose to 6.4% from 4.5% week-over-week. Direct bids include domestic money managers—for example, State Street Corp. (STT).
The share of primary dealer bids fell to 62.5% from 71.4% in the previous week. A decrease in the percentage of primary dealer bids shows stronger fundamental market demand. Primary dealers are a group of 22 broker dealers authorized by the Fed. These dealers are obligated to bid at US Treasury auctions and clean up excess supply. Primary dealers include firms such as Goldman Sachs Group, Inc. (GS) and Citigroup Inc. (C). Both of these companies are part of the SPDR MSCI World Quality Mix ETF (QWLD) and the iShares Core S&P 500 ETF (IVV).