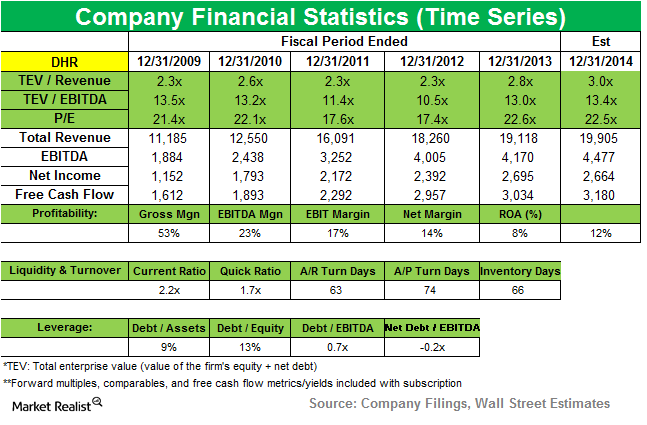 Glenview Capital opens new position in Danaher
By Samantha Nielson

Dec. 4 2020, Updated 10:53 a.m. ET
Glenview Capital and Danaher
Glenview Capital Management added a new position in Danaher Corp. (DHR) in the third quarter. The position accounted for 1.99% of the fund's total portfolio.
Article continues below advertisement
Overview of Danaher
DHR designs, manufactures, and markets professional, medical, industrial, and commercial products and services. The company's business consists of five segments:
Test and Measurement
Environmental
Life Sciences and Diagnostics
Dental
Industrial Technologies
Growing through acquisitions
DHR pursues a number of ongoing strategic initiatives relating to idea generation, product development and commercialization, global sourcing of materials and services, manufacturing improvement, and sales and marketing under its DBS (Danaher Business System) framework. It's aimed at growing sales and financial performance.
DHR also pursues acquisitions of companies that fit with its existing portfolio or expand its portfolio into attractive domains. During the first nine months of 2014, the company acquired 15 businesses for a total consideration of $635 million in cash—net of cash acquired. The businesses complement DHR's existing units in various segments.
Article continues below advertisement
Nobel Biocare buyout
In September, DHR announced the acquisition of Nobel Biocare in an all-cash transaction valued at ~$2.2 billion. Nobel Biocare is headquartered in Zurich, Switzerland. It operates in the field of innovative implant-based dental restorations. Currently, it serves customers in 80 markets around the world. The deal was completed recently.
DHR's portfolio of solutions includes dental implant systems, high-precision individualized prosthetics, biomaterials and digital diagnostics, treatment planning, and guided surgery. Nobel will become part of DHR's $2.2 billion Dental segment.
Earnings and revenue grew in 3Q14
DHR's revenues for 3Q14 were $4.9 billion. This was 4.5% higher than the $4.7 billion reported for 3Q13. The third quarter ended on September 26. Net earnings were $680.6 million, or $0.95 per share on a diluted basis. This was a 13% increase year-over-year, or YoY. The results beat analysts' consensus.
DHR said sales from existing businesses contributed 3% growth. Sales from acquired businesses contributed 2% on a YoY basis. The company said it remains cautious due to the "challenging macroeconomic outlook including the recently stronger dollar." The company saw revenue increase across all of its segments.
Article continues below advertisement
Revenues for DHR's Test and Measurement segment increased 1.5% as sales from existing businesses in the segment's instruments, mobile tool, and wheel service businesses grew. However, declines in the communications businesses offset the company's growth. DHR said it saw continued lower demand for network management solutions due to delays in wireless carrier spending—primarily in North America.
DHR will merge communications business with NetScout
Earlier this month, DHR said it will merge its communications business—including Tektronix Communications, Arbor Networks, and Fluke Networks—with NetScout in a tax-free transaction. The transaction values DHR's communications business at $2.6 billion.
Glenview's positions in 3Q14
The fund added new positions in Actavis (ACT), DHR, Realogy Holdings Corp. (RLGY), and 21st Century Fox (FOXA). Its top exit was Walgreens (WAG). It raised stakes in Pentair Plc (PNR), Liberty Global Plc (LBTYA), Endo International Plc (ENDP), and Fidelity National Financial (FNF).
The next part of this series will highlight the fund's new position in RLGY.