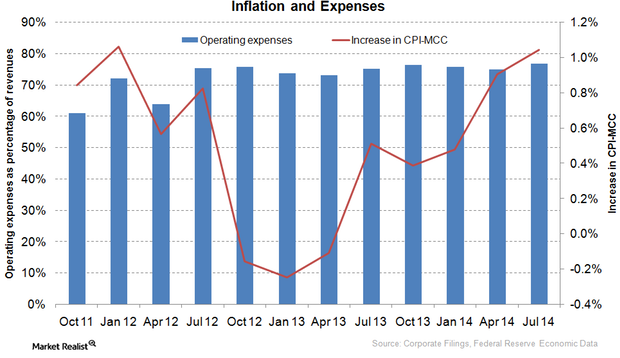 Gauging inflation's effects on the hospital industry
Relationship
Inflation closely relates to the performance of the healthcare industry (XLV), as it affects the rates that hospitals charge and the costs of medical care that hospitals bear.
Article continues below advertisement
Article continues below advertisement
Cost of care
The above graph shows how hospitals' average operating expenses directly relate to changes in the Consumer Price Index for All Urban Consumers: Medical care commodities (CPI-MCC). The average operating expenses are based on the expenses borne by HCA Holdings (HCA), Community Health Systems (CYH), Universal Health Services (UHS), and Tenet Healthcare (THC). CPI-MCC shows inflation in the prices of prescription drugs, over-the-counter drugs, and other medical equipment and supplies. As the cost of these supplies rises, hospitals' average operating expenses also increase.
The cost of prescription drugs—and especially generic drugs—rose in 2014 by about 12% compared to 2013. The rise has been a major cause of rising inflation in medical care commodities. The cost of medical equipment and supplies rose by a modest rate of 0.3% in the third quarter of 2014 from the third quarter of 2013.
Pricing
Medicare and Medicaid payments account for about half of total hospital payments in the US. Medicare payments are made under the Inpatient Prospective Payment System (or IPPS). Medicare pays hospitals according to a predetermined schedule. The rates in this schedule are adjusted for net inflation. Medicaid payments are based on either the cost of providing service or the price paid by private insurers or the Medicare program. In either case, rising inflation leads to an increase in Medicaid provider rates. However, research has proven that Medicare and Medicaid payment rates lag the inflation rate. As cost inflation doesn't completely pass on to the customer, it affects hospitals' profitability.