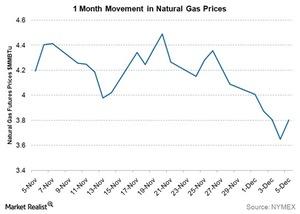 Why falling natural gas prices could shake the power industry
By Matt Phillips

Updated
Importance of natural gas in power generation
Natural gas is the second largest source of electricity generation in the United States after coal. In 2013, 27% of electricity was produced from natural gas. The U.S. Energy Information Administration (or EIA) predicts that by 2035, natural gas will surpass coal as the largest source of US electricity generation.
So tracking natural gas prices can help investors gauge cost-side pressures of power companies with substantial exposure to natural gas-fired power plants.
Article continues below advertisement
Falling natural gas prices not helping utilities
Natural gas prices fell by 7% for the week ended December 5, 2014. Natural gas futures closed at $3.802 per million British Thermal Units (or MMBtu) on December 5 after falling by 10.9% in the previous two weeks.
Contrary to popular belief, falling natural gas prices affect power companies adversely. Though a decline in fuel prices reduces the cost of power generation for power companies, electricity prices also come down very quickly due to lower production costs. This results in shrinking cash flows for power companies. When gas prices rise, utilities raise electricity prices and use the higher revenue to increase capital expenditure (or capex).
Among the companies that are part of the Utilities Select Sector Standard & Poors depositary receipt (or SPDR) (XLU), Entergy Corporation (ETR), NRG Energy (NRG), Xcel Energy (XEL), and Public Service Enterprise Group (PEG) have high proportions of natural gas-fired generation capacities.
Risks of falling gas prices among regulated and unregulated players
Unregulated power companies are more exposed to the risk of falling gas prices than regulated utilities. Since electricity pricing in unregulated markets is based on market forces, electricity prices adjust to fuel prices much faster than regulated power companies.
Since power prices are set by state governments for regulated power companies, there is often a lag in electricity prices aligning with change in fuel prices. This explains the big drop in unregulated power companies for the week ended December 5, 2014.