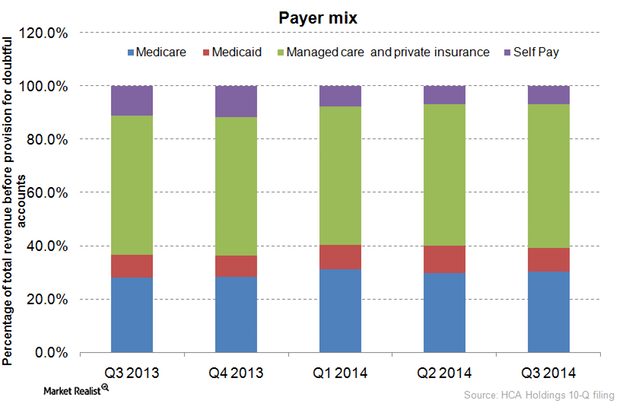 Exploring payer mix trends at HCA Holdings
Payer mix
All for-profit hospital operators such as HCA Holdings (HCA), Tenet Healthcare (THC), Universal Health Services (UHS), and Community Health Systems (CYH) receive payments from federal Medicare, state Medicaid, or similar programs. Operators are also paid by managed care, third-parties, and by patients directly.
Article continues below advertisement
Medicare and Medicaid
Medicare and Medicaid are government social programs that together contribute about half of the total spending in the healthcare industry (XLV). The percentage of HCA Holdings revenues contributed by Medicare rose from 28.0% in 3Q13 to 30.3% in 3Q14.
Same-facility medicare inpatient admissions, a measure which assumes that HCA operated the same group of hospitals in both years, was up 3.1% in this time frame. Meanwhile, equivalent admissions, a measure of total inpatient and outpatient admissions, increased by 3.8%.
In 3Q14, HCA Holdings, or HCA, also received a $94 million settlement from the Center for Medicare and Medicaid Services as partial payment for withdrawing certain Medicare payment-related appeals.
With more of the US population now insured, Medicaid revenues increased from 8.4% in 3Q13 to 8.8% in 3Q14. Same-facility Medicaid admissions and equivalent admissions also increased by 9.7% and 12.6%, respectively. HCA Holdings lost $68 million of its Medicaid revenues related to the Texas Medicaid program. For more information on this program, read Exploring admission and market mix.
Article continues below advertisement
Managed care and private insurance
Managed care and private insurance revenues increased from 52.3% in 3Q13 to 54.1% in 3Q14. Managed care and exchange admissions increased 3.8% and 5.6%, respectively. The case mix of exchange cases also rose by 1.7%, which is 8%–10% higher than the other cases treated by the company.
Self-pay patients
With the higher numbers of insured people, the percentage of revenues from uninsured, or self-pay patients, fell from 11.3% in 3Q13 to 6.8% in 3Q14. Unsurprisingly, bad-debt expenses fell as well.