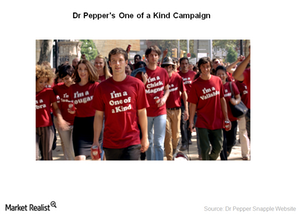 Dr Pepper Snapple targets key demographics in advertising campaigns
Oldest unique brand
Dr Pepper Snapple Group Inc.'s (DPS) flagship brand, Dr Pepper, is one of the oldest soft drinks and is known for its unique flavor compared to Coke, Pepsi, or other soda drinks. Its distinct taste, which comes from a blend of 23 flavors, gives it a loyal customer base.
Article continues below advertisement
Article continues below advertisement
One-of-a-kind campaign
Dr Pepper Snapple's advertising campaigns over the years have reflected the idea that it's unique in the soft drink market. For instance, the company's 2012 Always One of a Kind campaign, inspired by the popular 1970s I'm a Pepper commercials, conveyed the point that the consumer drinking Dr Pepper stands out in a crowd.
Bolder campaigns
In 2011, the company launched Dr Pepper TEN, a lower-calorie product with the same flavor as Dr Pepper. The company targeted young men as the consumers for this product and brought out a bold campaign with It's Not for Women tagline. The company's rationale behind this campaign was that young men would like a low-calorie option without the diet imagery. The campaign did face a lot of criticism from female consumers.
Article continues below advertisement
Key demographics
Recently, the company has been targeting Hispanics and Millennials in its advertising campaigns. According to the U.S. Census Bureau, Hispanics will account for 19% of the US population by 2020. Dr Pepper Snapple's business is growing rapidly in Latin America, with successful brands like Penafiel. The company is now planning to bring Penafiel, a sparkling mineral water brand, to the Hispanic community in the United States.
The Millennial demographic represents the generation of people who were born between 1981 and 1996. Nielson, a global information and measurement company, estimates that this highly influential group represents 24% of the US population. Companies catering to this young, tech-savvy group with their brands, packaging, and campaigns include Dr Pepper Snapple and its peers such as The Coca-Cola Company, PepsiCo Inc. (PEP), and Monster Beverage Corporation (MNST).
These companies are part of ETFs such as the Consumer Staples Select Sector SPDR Fund (XLP) and the SPDR MSCI World Quality Mix ETF (QWLD).