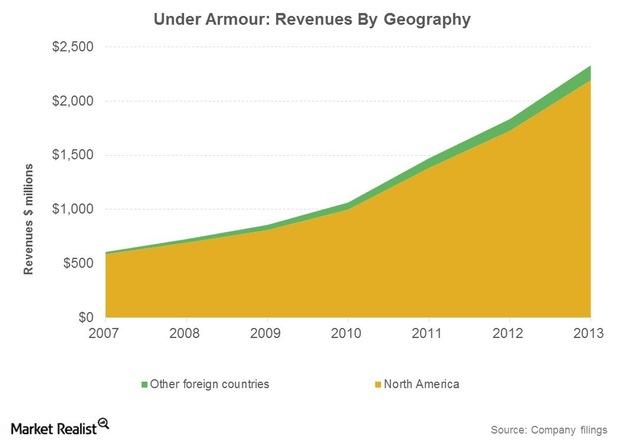 Can Under Armour's Growth Model Cope With These Threats?
Competition for retail space
Article continues below advertisement
Innovation and product development
The ability to innovate is key to building brand awareness and staying ahead of the pack. If United Armour, or UA, stops developing and marketing new products, its ability to grow in a highly competitive market will be severely limited.
Higher labor costs in Asia
Other key threats to the company are higher labor costs and greater regulation. According to an International Labor Organization report released in early December, wage gains in Asia were higher than in the rest of the world last year. In fact, wages rose by an average of 6% in Asia and by 9% in China (MCHI)(FXI)(ASHR) in 2013. Meanwhile, annual wage increases averaged 2% globally. Since most of Under Armour's suppliers and manufacturers are based in Asia, cost-side pressures will likely result.
More government regulation for overseas factories could also be in the cards. Higher factory standards would result in higher manufacturing costs, which would ultimately hit UA's bottom line.
The apparel industry has faced a growing backlash from human rights groups in the wake of the Bangladesh factory collapse last year. The catastrophe, thought to be the worst apparel factory accident in history, resulted in the deaths of 700 garment workers.
Higher labor costs and greater regulations may also impact other apparel and footwear companies with overseas operations, such as The Gap, Inc. (GPS), among others.
Currency headwinds
As yet, UA doesn't have significant operations overseas. But as more and more revenues are derived from international operations, returns to shareholders may be affected by adverse currency movements versus the US dollar.
To read more sector updates, visit Market Realist's Consumer and Retail page.