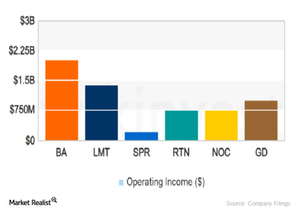 Boeing's competitive advantages
The Boeing Edge
Boeing's competitive advantages are listed below:
The biggest advantage that Boeing (BA) has is that both its sales and production facilities are global. This gives it a strong international presence spread across more than 140 countries.
The company enjoys strong relations with many companies, even its competitors. It successfully deploys a number of joint programs. For example, Boeing partners with Lockheed Martin (LMT) in the United Space Alliance and with Northrop Grumman (NOC) in a joint common missile program.
BA has a broad product line that includes the Boeing Business Jet and the 717, 737, 747, 757, 767, and 777 families of jetliners. Also, the company's newly launched Dreamliner caters to major markets and niche segments.
More than 12,000 Boeing-built commercial jetliners are in service around the globe. This is roughly 75 percent of the world fleet.
The company has a strong, strategically positioned global distribution network that is linked by advanced digital systems to ensure prompt spare parts delivery. Up-to-the-minute inventory information is available on demand to keep Boeing fleets operating at optimum productivity.
Boeing teams up with suppliers from different countries to develop technologies and design concepts. This in turn helps it gain market in these countries since companies that have a stake in BA are more likely to buy from Boeing than from its competitors. For example, Boeing has maintained longstanding relationships with Japanese suppliers, including Mitsubishi Heavy Industries and Kawasaki Heavy Industries. These companies have been increasingly involved in successive Boeing jet programs in a process that has helped Boeing achieve almost total dominance of the Japanese commercial jet market.
BA works with top firms like General Electric (GE) to form one of the top ten holdings of the SPDR S&P 500 (SPY). Boeing also collaborates with Rolls-Royce to develop more efficient engines; this gives BA a technological edge over its competitors.
Boeing offers dedicated support for out-of-production airplanes and parts.
Strategies such as these help keep the company ahead of Airbus, Embraer, and other competitors.
The next article in this series will discuss Boeing's competitors.
Article continues below advertisement
Article continues below advertisement