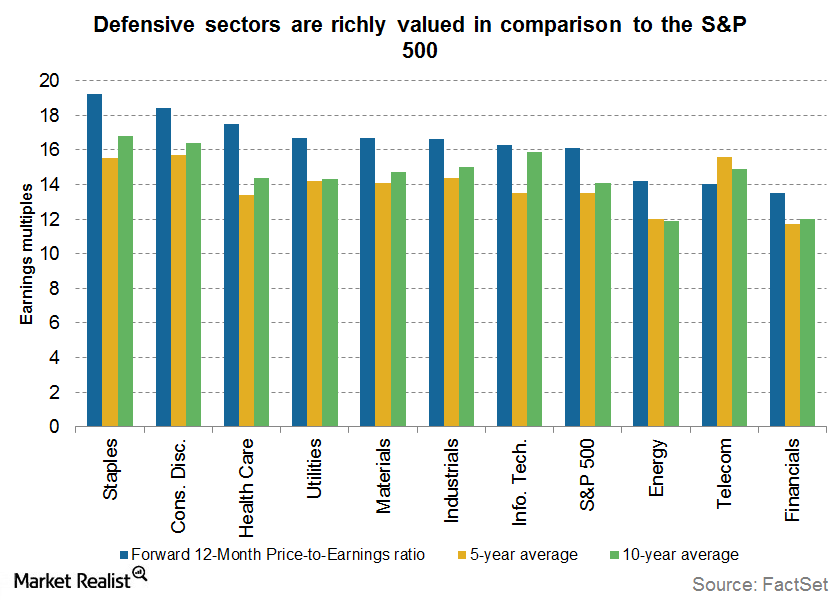 Investors Should Avoid Defensive Sectors If Rates Rise
Why you should avoid defensive sectors in a rising rate environment
We see a similar appetite for income with other yield oriented sectors of the stock market, notably utilities and consumer staples. While the thirst for yield is understandable, it may be leading investors to overpay and take on hidden risks.
The defensive sectors all sport aggressive valuations and carry hidden duration, or interest rate sensitivity. If interest rates rise even modestly in 2015––as we expect they will––these sectors are likely to perform poorly, as their valuations are particularly sensitive to rate rises.
Article continues below advertisement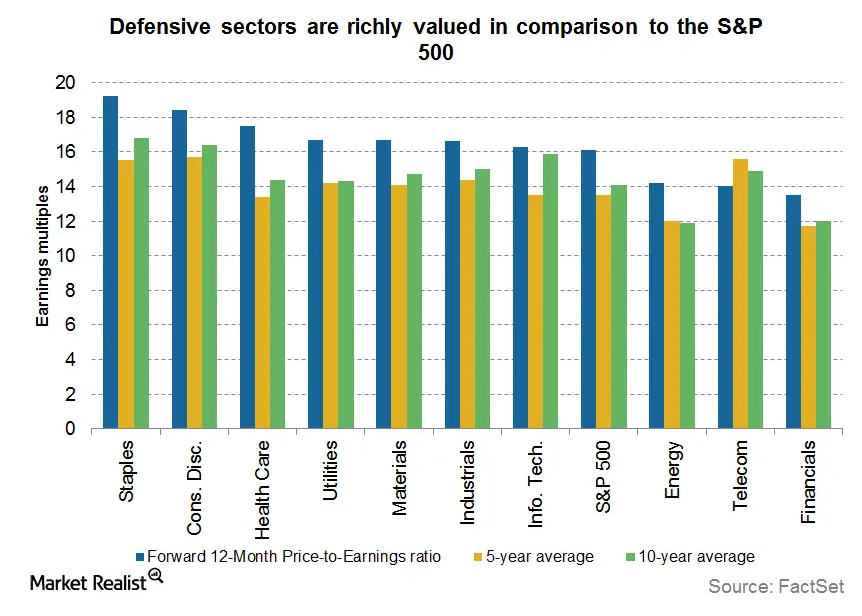 Market Realist – Defensive sectors hold a strong allure for investors because they pay high dividend yields and exhibit relatively low levels of volatility (VXX). The search for yield has caused investors to climb into defensive sector stocks.
Utilities (XLU) and consumer staples (XLP) are richly valued in comparison to the S&P 500 (SPY), as you can see in the graph above. The forward price-to-earnings multiples for both these sectors are higher than their five-year and ten-year averages. Given the rich valuations, investors would do well to avoid defensive sector stocks.
Utilities often act as a bond market proxy. Because prices and yields of bonds (TLT)(BND) are negatively related, the sector historically responds poorly to rising rates.
The Federal Reserve (or Fed) is all set to hike rates in 2015. As interest rates increase, the earnings multiples of utility companies are likely to decline. The sector is likely to underperform in a rising rate environment given current high valuations.
The graph above shows how global utility sector valuations are currently at the higher end of their historical range. Investors should avoid defensive sectors, which are highly sensitive to interest rate changes.
Read on to our concluding part to understand why you should invest in cyclical stocks instead.