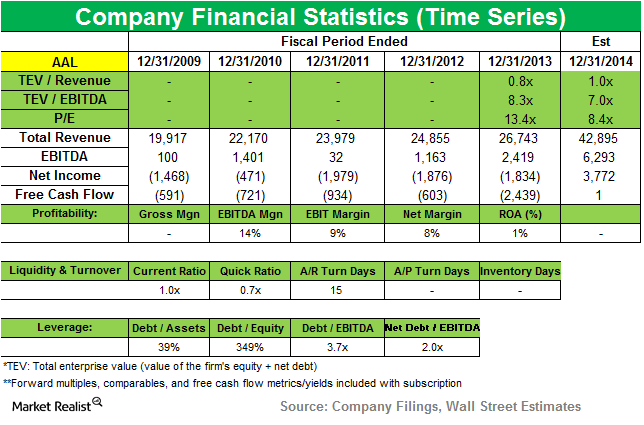 American Airlines gets significantly lower position in Appaloosa
Appaloosa lowers holding in American Airlines
Appaloosa Management significantly lowered its position in American Airlines (AAL) in the third quarter that ended in September 2014. The position accounts for 3.81% of the fund's total third-quarter portfolio. The fund at present owns 7,286,892 shares, down from 11,654,522 shares in 2Q14. The position was the second largest in the fund's 2Q14 portfolio. On the other hand, the fund remained bullish on American Airlines' peer Delta Air Lines, Inc. (DAL), whose position was boosted by 1,069,316 shares during the third quarter.
Article continues below advertisement
Article continues below advertisement
Overview of American Airlines
American Airlines' (AAL) parent AMR Corporation and US Airways Group (LCC) officially announced their $17-billion merger on December 9, 2013. Under the merger, US Airways Group became a subsidiary of AMR Corporation, which changed its name to American Airlines Group Inc. (AAG).
American Airlines emerged from bankruptcy and combined with US Airways under a new stock ticker, AAL. According to the press release on the merger, the transaction is expected to generate more than $1 billion in annual net synergies by 2015.
As discussed in an article on the Market Realist website last month, American Airlines has overtaken Delta to become the largest U.S. airline in terms of domestic revenue passenger miles (or RPMs) as well as capacity after it merged with U.S. Airways in December 2013. American Airlines' domestic market share by RPM is ~20% compared to Delta's (DAL) 17%. American Airlines' share in domestic capacity is ~26%, the highest among its legacy peers. The top six airlines in the United States include American Airlines (AAL), Delta Air Lines (DAL), United (UAL), Southwest Airlines (LUV), and JetBlue Airways (JBLU).
Another article also noted that the share prices for major airline companies in the United States dropped substantially in October due to the Ebola scare. The average decrease in share prices for the six major U.S. airlines during this period was ~17%.
Article continues below advertisement
Americal Airlines' (AAL) third-quarter 2014 generally accepted accounting principles (or GAAP) net profit was $942 million. This was in comparison to a GAAP net profit of $289 million in the third quarter of 2013 for AMR Corporation prior to the merger. Total revenues in the third quarter were a record $11.1 billion, an increase of 4.4%. During the quarter, American Airlines (AAL) benefited from falling jet fuel prices and a favorable revenue environment.
You can follow more updates on the airline sector on the Market Realist website.
Appaloosa's positions in 3Q14
Appaloosa Management added new positions in NXP Semiconductors NV (NXPI), Lorillard Inc. (LO), Alibaba Group (BABA), and Shire Plc (SHPG). Top exits were Expedia, Inc. (EXPE), and American International Group (AIG). The fund added to its stakes in Whirlpool Corporation (WHR) and Priceline Group Inc. (PCLN). Top stake decreases were in American Airlines (AAL) and The Walt Disney Company (DIS).
The next part of this series will discuss Appaloosa Management's position in The Walt Disney Company (DIS).