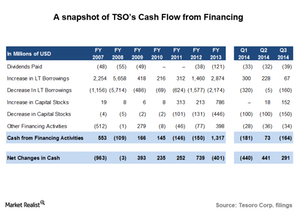 Tesoro's cash flow from financing activities
Tesoro's cash flow statement
In the earlier parts, we discussed Tesoro Corporation's (TSO) cash flows from operating and investing activities. Now let's look at Tesoro's cash flow from financing activities (or CFF) to complete our analysis of the company's cash flow statement.
CFF is a key intermediary between a company and its sources of capital. It also shows cash returned to shareholders by way of share repurchases and dividends.
Article continues below advertisement
Article continues below advertisement
Tesoro's dividends
Over the last seven years, Tesoro's dividends reflect its fortunes as the global economy boomed, went into recession, and then started growing again. Indeed, supporting its recent stock market performance, Tesoro's dividends have been rising steadily. It has already paid more dividends in the first three quarters of 2014 than in all of 2013.
For context, Valero Energy (VLO) and Marathon Petroleum (MPC) each paid ~$400 million in dividends to shareholders in the first three quarters of 2014. These refiners are among the top holdings of the SPDR S&P Oil & Gas Exploration & Production ETF (XOP).
Raising capital via debt
Tesoro has needed to raise capital via debt to fund its expansions and acquisitions. It has been managing its debts quite well, as we saw in Part 1, by way of regular repayments and timely issuances. This means that its debt levels have not increased to uncomfortable levels. We'll analyze this in the following parts.
Article continues below advertisement
Stock repurchases and issuances
On the equity side, it looks like Tesoro (TSO) has been raising more cash from stock issuances, mainly related to its Tesoro Logistics (TLLP) unit, than it has been spending on share repurchases. This has helped boost CFF as well as the equity on its balance sheet.
But in 2014, the company seems to have turned this trend toward net repurchases. A combination of the repurchases and Tesoro Logistics being monetized could also help explain Tesoro's recent outperformance. Repurchases help boost a company's earnings per share (or EPS).
Putting it all together
We can see that Tesoro's activities at the CFF level have been both a source and destination for Tesoro's cash over the years. Overall, from net cash changes to the company, we can see how Tesoro has been steadily adding to its cash pile and how acquisitions made in 2007 and 2013 caused net cash changes to be negative, as discussed in the previous part.