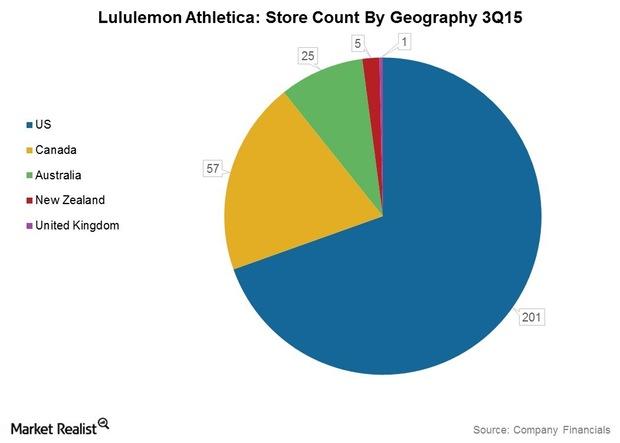 Analyzing Lululemon's Revenues By Geographical Segment
Analyzing Lululemon's geographical exposures
Lululemon Athletica (LULU) is a relatively new company. Its revenues have grown strongly over the years. The company grew its revenues at a compound annual growth rate (or CAGR) of more than 35% over the past five years (fiscal 2009–14) to come in at $1.6 billion in fiscal 2014. Sales have a strong seasonal tilt, with the fourth quarter of the year typically benefiting from holiday season gift-giving and promotions.
Article continues below advertisement
Article continues below advertisement
Despite the high growth rates, LULU's geographical reach is as yet limited to certain countries. The Canada-based apparel retailer has overseas operations in the US (its largest market), Australia, New Zealand, and its most recent foray, the United Kingdom. The US market accounted for 65% of its sales, or $1.1 billion in fiscal 2014.
North America: A crucial market
About $1.5 billion or ~95% of Lululemon's revenues came from North America in fiscal 2014. LULU plans to expand its retail footprint still further in the US. Its efforts are likely to bear fruit due to the expanding US economy and improving labor market.
These factors are likely to benefit the retail sector overall and impact returns on ETFs like the SPDR S&P Retail ETF (XRT). Other ETFs providing exposure to consumer discretionary stocks include the iShares Global Consumer Discretionary ETF (RXI), the Consumer Discretionary AlphaDEX Fund (FXD), and the Vanguard Consumer Discretionary ETF (VCR).
International plans: One step at a time
Sales outside the US and Canada accounted for about 5% of the company's revenues or $0.1 billion in fiscal 2014. Going forward, the share of international revenues is going to climb as the company expands aggressively in Asia and Europe.
LULU opened its first UK store in the busy Covent Garden area in London this year. It's also rolling out its second London store in the upmarket Chelsea area next month. LULU opened its first Singapore store in December.
Store openings are slated for Hong Kong and the Middle East in 2015. The company plans to open ~20 new stores each in Asia and Europe by 2017.