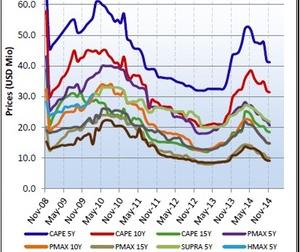 5-year and 10-year ship prices for dry bulk companies
By Katie Dale

Updated
Newbuilds versus secondhand vessel values
Secondhand vessels are characterized by faster deliveries and thus reflect medium-term to short-term fundamentals. These prices tend to be more responsive to changes in current rates as they're more responsive to industry turnarounds compared to newbuilds. Although this only takes about one or two months, share prices can move fast within a small period.
On the contrary, buyers and sellers of newbuilds have to wait for almost two years for delivery and thus indicate longer-term fundamentals.
Article continues below advertisement
November secondhand vessel values
Vessel values for 5-year and 10-year-old Capesize in November dropped marginally to $41.2 million and $31.4 million, respectively, from $41.7 and $32 million in October 2014. Panamax vessel value for 5-year and 10-year declined to $20.6 million and $14.9 million, respectively, from $22 million and $15.1 million in the previous month.
Supramax 5-year-old prices dipped to $21.8 million from $22.4 million, while Handymax 10-year-old vessels dropped to $14.7 million from $15 million in the previous month.
Vessel prices bottoming
Vessel prices are very close to bottom levels that occurred back in the period from December 2012 to January 2013, while the freight market has been fairing at better levels compared to that period. Lower vessel prices in the secondhand market indicate negative performance for dry bulk shipping stocks like Diana Shipping Inc. (DSX), Knightsbridge Tankers Ltd. (VLCCF), Safe Bulkers Inc. (SB), and Navios Maritime Holdings Inc. (NM).
A strong outlook will have a positive impact on these stocks, as well as on the Guggenheim Shipping ETF (SEA).