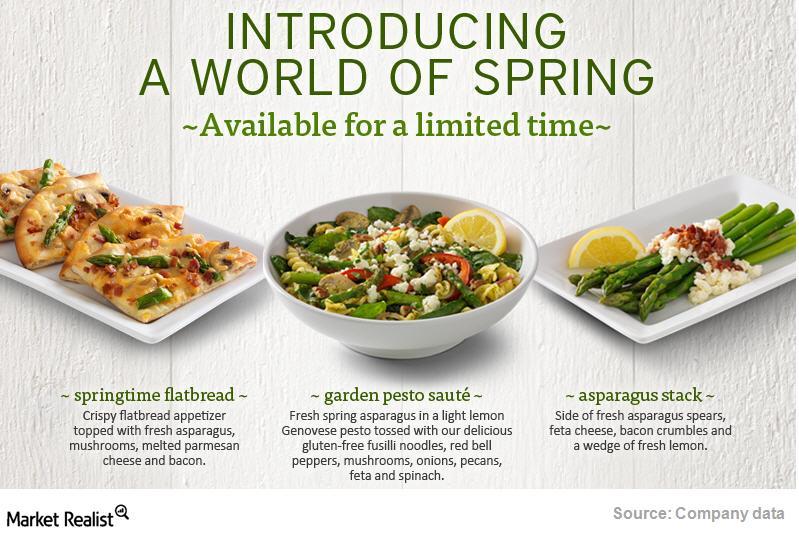 Why Noodles and Company has short and long-term goals
Short-term drivers
Noodles & Company (or NDLS) has a few initiatives and tactics to drive short-term traffic. It also drives longer-term brand and customer loyalty building. The short-term traffic drivers tend to be promotional. The company uses its digital and email platform to distribute the offers.
It's peers include Panera Bread Company (PNRA), Chipotle Mexican Grill (CMG), Popeye's Louisiana Kitchen (PLKI), and Papa John's International Inc. (PZZA).
Article continues below advertisement
Article continues below advertisement
NDLS is also focusing on fall and winter limited time only (or LTO) offerings. These shorter-term offerings increase merchandises pending within the restaurants. LTO is a retail market exercise. It was created to drive sales and customers by using a simple technique. An example is McDonald's (or MCD) LTO McRib offer.
It also follows a few interesting messaging techniques. This allows the company to target different markets with different messages.
Longer-run initiatives
On a longer-term basis, NDLS is determined to invest in catering and its core menu. It plans to reinforce the variety of flavors and the choices on its menu.
Recently, NDLS opened in San Francisco. It's starting to build some early entry markets down in Orlando and Houston. The company is constantly adding a couple of new markets every year. It has some strong franchisees in the Northeast that just started to open new restaurants this year.
The long-term growth rate is stable. Management believes that the ability to grow at a higher rate makes sense—assuming that the company is obtaining quality real estate. The pipeline is large. The company has a lot of potential sites. The sites can be shortlisted to match the site criteria.
The PowerShares Dynamic Leisure and Entertainment (PEJ) and the PowerShares Dynamic Food & Beverage (or PBJ) are the broader industry metrics.