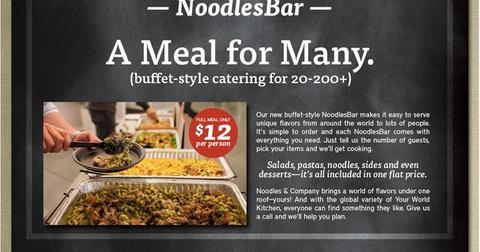 Why Noodles and Company has a new initiative
By Katie Dale

Nov. 26 2019, Updated 9:26 p.m. ET
New initiative
Kevin Reddy—chairman and CEO of Noodles & Company (or NDLS)—commented that while the company fell short of its second quarter results, it made significant progress in regards to long-term investments in key initiatives. The initiatives include catering and local relationship marketing.
Unlike, its peers—Panera Bread Company (PNRA), Chipotle Mexican Grill (CMG), Popeye's Louisiana Kitchen (PLKI), and Papa John's International Inc. (PZZA)—NDLS is offering catering options. The catering options will lead to higher sales and expand the bottom line.
The PowerShares Dynamic Leisure and Entertainment (PEJ) and the PowerShares Dynamic Food & Beverage (or PBJ) are the broader industry metrics.
New catering program
With the diverse menu that NDLS offers, the company launched its new catering program. Customers can place larger orders for groups from 20 to 300 people. The food is priced at ~$12 per person. This makes everyone happy.
Noodles' management revealed that the company catered some weddings, Christmas parties, and banquets. They're seeing early success in the catering business. NDLS also completed training for catering management. All of the general managers are excited about it.
In a recent interview, NDLS general manager, Fred Lashmet commented that the company began catering to feed larger groups of people. Also, it's easier to leave an impression and create brand awareness.
The catering menu is available online. It includes two entrees, salad, one or two sides, and a dessert. In October, the company had a contest and a Facebook promotion. Customers had the chance to win free catering for 20 people.
New restaurant format
Article continues below advertisement
In the first week of October, NDLS opened a new location on the east-side of Sioux Falls. The location features a variety of Asian, American, and Italian pastas, salads, soups, and sandwiches. The east-side store also has a new company look. It features richer and darker colors. It also includes a broader approach at dinner. It has more beverage options and desserts—like carrot cake and espresso chocolate cake.