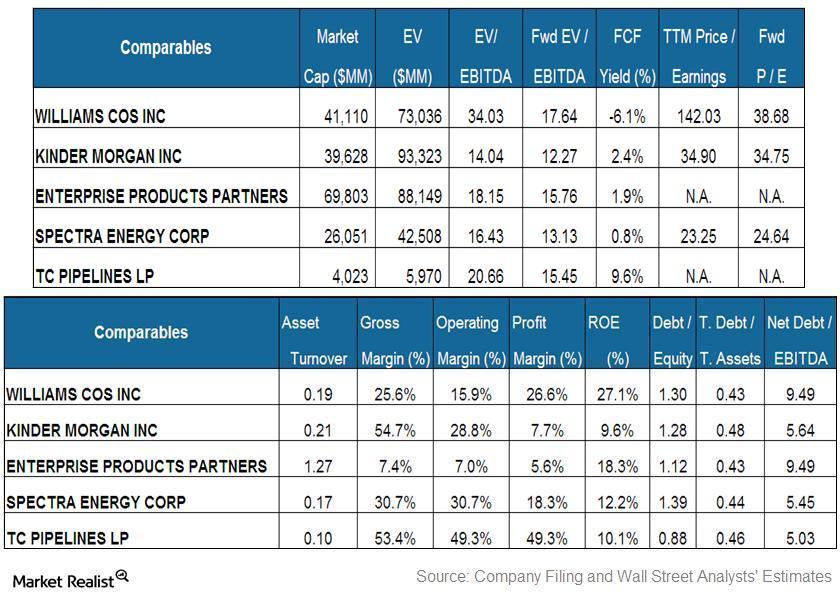 Must-know: Williams Companies compared to its peers
By Alex Chamberlin

Nov. 20 2020, Updated 5:27 p.m. ET
Comparing companies
As noted in the table below, Enterprise Products Partners (EPD) is the largest company by market capitalization and enterprise value (or EV) among its closest peers. By market cap, Williams Companies (WMB) is next.
EV to EBITDA
Kinder Morgan Inc. (KMI) has the lowest EV to earnings before interest, tax, depreciation, and amortization (or EBITDA) multiple at 14.x. WMB has the highest EV when scaled by EBITDA in the group. It's EV to EBITDA is 34x. WMB and KMI are part of the Energy Select Sector SPDR (XLE).
Kinder Morgan's EBITDA for the last 12 months (or LTM) is ~50% higher than the group's average.
Article continues below advertisement
Analysts' consensus forward EV to EBITDA multiple is the highest for WMB. It's the lowest for Spectra Energy (SE) in 2014. Forward EV to EBITDA is a useful metric to gauge relative valuation. A higher multiple compared to its peers usually indicates richer valuation or that WMB is trading at a premium.
Debt to EBITDA
WMB's LTM debt to EBITDA is one of the highest in the group because it has the lowest EBITDA. It also has one of the highest debt levels. This is a concern for investors. A high debt relative to EBITDA indicates potential strain in future debt repayments.
Price to earnings ratio (or P/E)
WMB's LTM P/E multiple is the highest in the group at 142x. SE's P/E multiple is 23.2x. It trades below the industry average. A higher P/E multiple usually indicates a market expectation for higher earnings growth. It can also indicate superior earnings quality—margins and consistency.
For full year 2014, WMB's forward P/E ratio is still the highest. It's followed by KMI. Forward P/E considers the sell-side analysts' consensus estimate of earnings for the year. WMB's long-term estimated earnings per share (or EPS) growth rate is the second highest among its peers at ~12%.
KMI's estimated EPS growth rate is highest at ~19.6%.
WMB's richer valuation may have been granted by the market based on its faith in the company's asset quality. Also, WMB has future potential to generate stronger profits.
Visit the Market Realist Midstream Oil & Gas page to learn more.