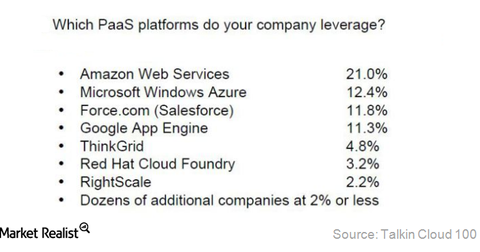 Microsoft announces partnership with IBM
By Anne Shields

Nov. 26 2019, Updated 9:19 p.m. ET
Microsoft joins hands with IBM to expand presence in cloud space
On October 22, 2014, leading technology players Microsoft (MSFT) and IBM (IBM) announced a partnership aimed to enhance their respective positions in cloud space. The partnership will let IBM's middleware software, known as WebSphere Application Server, WebSphere MQ, and DB2 database, run in virtual machines (or VMs) on Microsoft Azure for development and deployment purposes.
Article continues below advertisement
Both companies will work in unison to provide their key software products on each other's cloud services, IBM's SoftLayer infrastructure-as-service (or IaaS) cloud, and Microsoft Azure, and deliver a Microsoft .NET runtime for IBM's Bluemix cloud development platform to provide more options to their customers.
According to Talkin Cloud 100, as the chart below shows, Microsoft Windows Azure is the most preferred platform as a service (or PaaS) after Amazon Web Services.
Microsoft's partnership with IBM is the latest move to enhance the presence of Azure Cloud services
Microsoft has formed partnerships with other players such as Oracle Corp (ORCL), Salesforce.com (CRM), and SAP AG (SAP) to certify its applications and development tools on the Azure cloud platform. Microsoft has developed the Cloud Platform System (or CPS) that can be deployed by enterprises in its own data centers and is designed specifically to handle large data workloads.
To learn in detail about Microsoft Azure and its importance to the success of the company, please read Market Realist's series Why Microsoft Azure may be the key to Microsoft's future success.
Transition to cloud has urged players to explore alliances, partnerships, and strategic agreements
Leading technology players have found themselves at a crossroads due to the strong shift to cloud computing. They have adopted the strategic route of alliances and partnerships to develop industry expertise and are exploring integrated offerings to accelerate and smooth the transition to cloud computing.