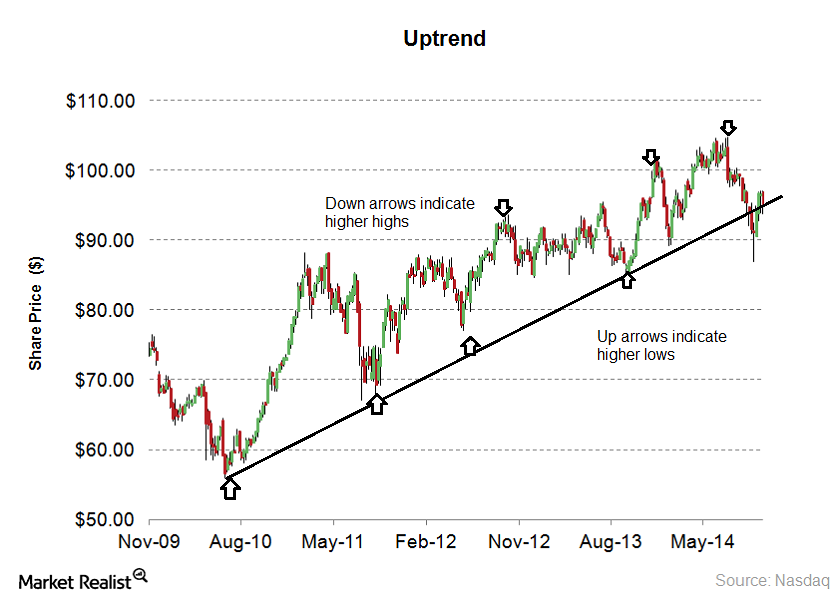 Why investors should buy stocks during an uptrend
What's a trend?
In technical analysis, the directional movement of a stock price or a financial instrument is called a trend. The three types of trends in a market:
uptrend
downtrend
sideways trend
Article continues below advertisement
Article continues below advertisement
Uptrend
The chart above shows ExxonMobil's (XOM) uptrend.
Stocks are in an uptrend when they're making higher highs and higher lows. Higher highs mean consecutive peaks higher than the previous peaks. Higher lows mean bottoms higher than the previous low.
An uptrend forms when psychological or fundamental factors are improving. Depending on the source and duration of the driver, the uptrend may last as short as a few weeks to as long as a few years.
During an uptrend, it's advisable to buy stocks on dips. There's optimism in the market that the stock price will go higher. When the stock market is in a long-term uptrend, it's called a bull market.
The line connecting the higher lows and higher highs is called the trend line. The higher highs' trend line is also called the resistance line. The higher lows' trend line is also called the support line.
Technical analysis concepts can be applied to stocks like Oasis Petroleum (OAS), Hess Corp. (HES), Chevron Corp. (CVX), and ExxonMobil (XOM). These stocks are part of energy sector exchange-traded funds (or ETFs) like the Energy Select Sector SPDR Fund (XLE).