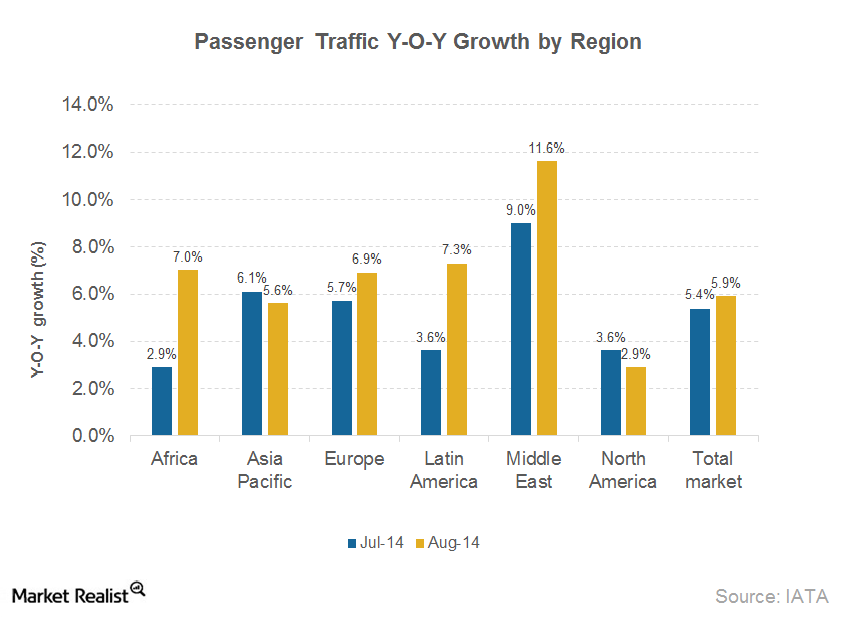 The global airline industry contributes to economic development
An important industry
The airline industry is an important contributor towards economic development. It has not only increased world trade activity by enabling faster and easier movement of passengers and goods, but has also provided jobs to millions of people. According to the IATA's (the International Air Transport Association) director general and CEO, currently, aviation provides 58 million jobs and contributes ~$2.4 trillion in GDP. This is expected to increase to 105 million jobs and $6 trillion in GDP in 2034.
The value of international trade shipped by air has increased by 2% to $6.5 trillion. It's expected to reach $6.8 trillion in 2014. As air passenger traffic increases, the value of tourism spending is expected to increase by 5.2% in 2014.
Article continues below advertisement
Economic growth has been the primary reason for the growth in demand. Network expansion through the addition of more unique city pairs over the years has also supported growth in air travel. With 16,000 unique city pairs, connectivity by air is estimated to have doubled in the past two decades. Moreover, although demand continues to rise, the price of travel has fallen. Reducing air transport costs have made air travel more affordable in recent years.
Apart from higher returns on transportation ETFs such as the Shares Transportation Average ETF (IYT) and SPDR S&P Transportation ETF (XTN), airlines' improved performance has also benefitted governments by adding to tax revenue. According to the IATA, tax revenues increased by 6.4% in $113 billion in 2013 and by 6.7% to $121 billion in 2014.
U.S. airlines
Four of the top six airlines by scheduled passenger kilometers were U.S. airlines. United (UAL) had the highest traffic, followed by Delta (DAL), Emirates, American Airlines (AAL), China Southern Airlines (ZNH), and Southwest Airlines (LUV).