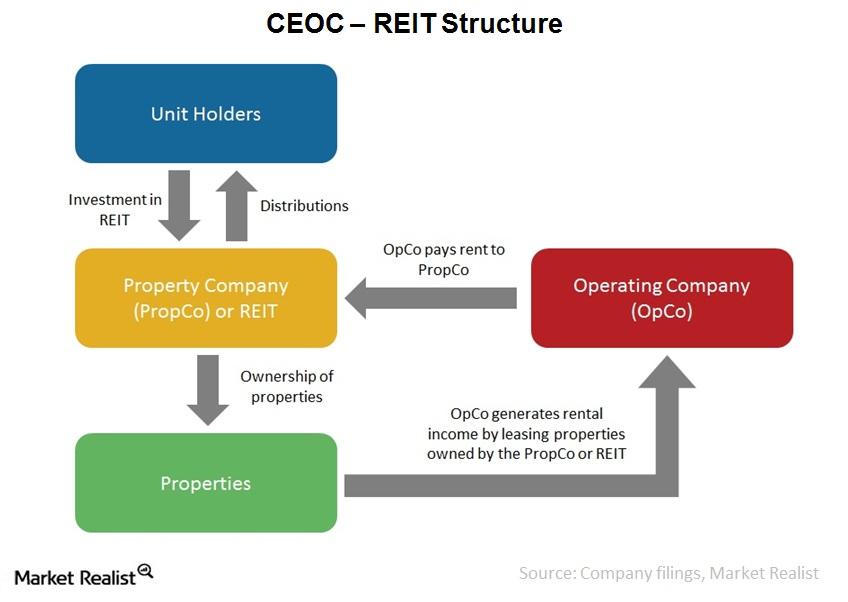 Caesars plans to restructure its largest operating unit as a REIT
Real Estate Investment Trust (REIT)
As we've learned previously in this series, Caesars Entertainment Corporation (CZR) must find a way to restructure its massive $18.4 billion debt. According to a regulatory filing released on November 19, 2014, Caesars is proposing to certain first lien creditors that it convert its largest operating unit, Caesars Entertainment Operating Company (or CEOC), into a real-estate investment trust (or REIT).
Article continues below advertisement
Article continues below advertisement
The above chart shows what the structure of CEOC as a REIT might look like. The operating unit would be restructured as a REIT with a property company (or PropCo) and an operating company (or OpCo). OpCo would lease the properties owned by PropCo and pay rent to PropCo. CZR would provide a limited guarantee on the lease based on terms and conditions that will be determined.
Last year in November 2013, Penn National Gaming, Inc. (PENN) separated its real property assets division into a REIT named Gaming and Leisure Properties Inc. (GLPI) through a spin-off. With this approach, GLPI leases its real property assets—its spun-off assets—to PENN. Penn National Gaming shares jumped on news of the spin-off.
A REIT is a corporate structure that invests in real estate and trades like the stock of a public company on an exchange. REITs generate income by collecting rent and pay out at least 90% of taxable income in the form of dividends to shareholders.
The Consumer Discretionary Select Sector SPDR Fund (XLY) and the VanEck Vectors Gaming ETF (BJK) help investors gain diversified exposure to casino companies.
Benefits to CEOC's creditors
By converting CEOC into a REIT, the beneficial holders of CEOC's senior secured credit facilities would receive a 100% recovery in cash and debt. The beneficial holders of CEOC's first lien bond debt would receive a 93.8% recovery in cash, debt, and equity.
The beneficial holders of CEOC's second lien and unsecured debt would receive a minimum amount of equity. Meanwhile, if they vote in favor of the restructuring they would receive an additional amount of equity.