Southwestern Energy's cash flow from financing activities
By Manas Chowgule, CFA

Nov. 27 2019, Updated 2:10 p.m. ET
Cash flow from financing
Previously in this series, we discussed Southwestern Energy Company's (SWN) cash flows from operating and investing activities. Now, let's have a look at SWN's cash flow from financing activities (or CFF) to complete our analysis of the company's cash flow statement.
CFF is a key intermediary between a company and its sources of capital. It also shows cash returned to shareholders by way of share repurchases and dividends.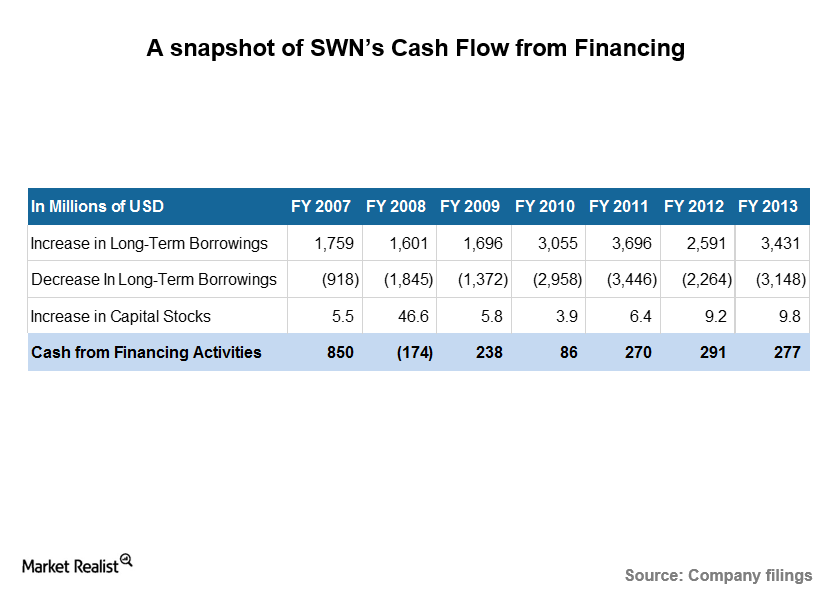 SWN doesn't pay any dividends, and it hasn't engaged in any major stock-based transactions—issues or repurchases—in the last seven years under review here.
Its major source of capital has been debt.
Long-term borrowing
Article continues below advertisement
The major items driving SWN's CFF are long-term (or LT) borrowings and repayments. As you can see in the table above, SWN has managed its LT debts with regular raises and repayments. Meanwhile, these activities have seen SWN's LT debt swell from just over $100 million at the start of 2007, to just under $2 billion at the end of 2013.
We'll study the effects of this trend on SWN's financial well-being in the following parts of this series.
Putting it all together
Bringing all of this together, we saw in Part 3 that SWN generated ~$10.1 billion in cash from its operations over the last seven years. But, we saw in Part 4 that the company spent a net amount of ~$12 billion on capital investments or expenditures during the same time frame.
It's this excess ~$2 billion of expenditures funded by debt that we see reflected in SWN's cash flow from financing operations in the table above. So, it's snug cash-flow management that's left SWN's cash and equivalent's position practically unchanged over the last seven years, as we saw in its balance sheet in Part 1.
Key peers and ETFs
SWN is a component of the Energy Select Sector SPDR ETF (XLE). This ETF also has holdings in major American upstream companies such as Pioneer Natural Resources (PXD), Apache Corporation (APA), and Marathon Oil Corporaiton (MRO).