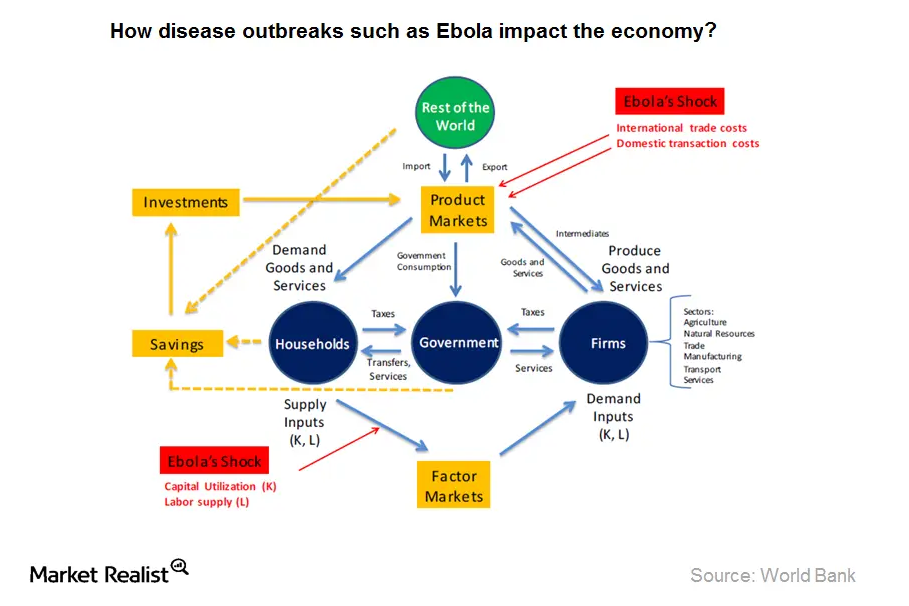 Why fatal disease outbreaks impact economic activity
By Teresa Cederholm

May. 4 2021, Updated 10:08 a.m. ET
Ebola impacts economic activity
World Bank identified two channels through which Ebola could impact economic activity and reduce trade, investment, output, and household income and consumption.
Reduction of factors of production – There could be underutilization of capital due to lower labor supply. The lower labor supply would be a result of workers getting sick, dying, taking care of infected people, or staying at home to avoid exposure to Ebola. This would result in reduced productivity. It would result in lower output and household income.
Higher transport and transaction costs in trade – There would be an increase in transport and transaction cost due to inspections. Road and border closures could result in higher prices for imports. It could also reduced income and margins to producers of goods and services.
Article continues below advertisement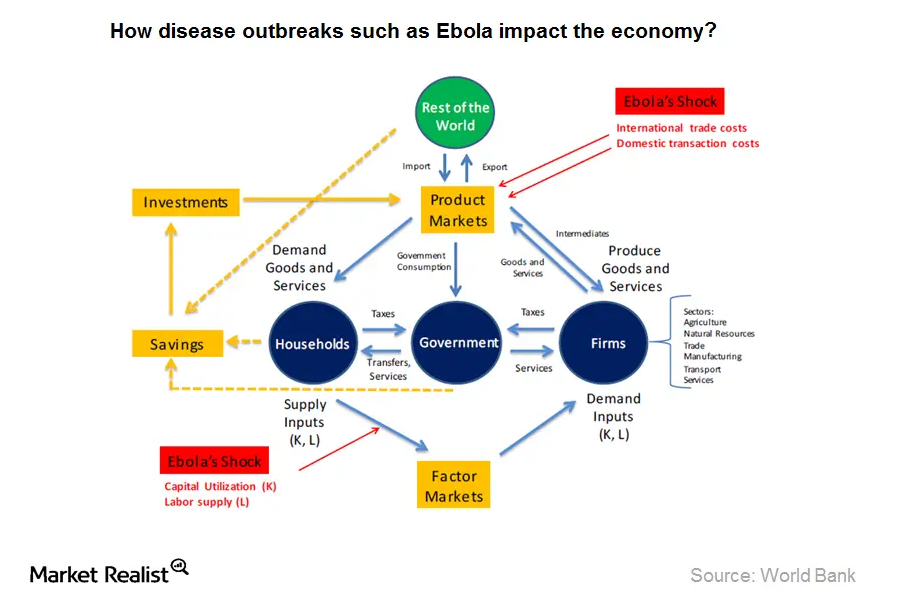 Economic impact of the 2014 Ebola outbreak
The World Bank estimated Ebola's impact by analyzing two scenarios—low Ebola and high Ebola. The scenarios are based on the probability of the disease spreading internationally.
Article continues below advertisement
According to this study, the West African region is under the low Ebola scenario. It rapidly contained Ebola. The loss in gross domestic product (or GDP) is estimated at $2.2 billion in 2014. It's estimated at $1.6 billion in 2015. Under high Ebola—slow Ebola containment—estimates are as high as $7.4 billion in 2014 and $25.2 billion in 2015.
The impact for the three core countries in West Africa is presented in the graph below.
Airline stocks are very sensitive to changes in economic conditions. Also, major airlines—including Delta (DAL), United (UAL), American (AAL), Southwest (LUV), JetBlue (or JBLU), and Alaska (or ALK)—may be negatively impacted by a reduction in traffic if passengers cancel their travel plans. Passengers could fear possible disease transmission through air travel. Some of these airlines are also part of the SPDR S&P Transportation ETF (XTN). XTN holds ~40% in airline company stocks.
Click here to learn how the top six U.S. airline companies performed in September.