Why cash flow from financing activities is an intermediary
By Manas Chowgule, CFA

Oct. 24 2014, Updated 1:00 p.m. ET
Cash flow from financing activities
In the last parts in the series, we discussed National Oilwell Varco's (NOV) cash flows from operating and investing activities. In this part of the series, we'll discuss NOV's cash flow from financing activities (or CFF). This will complete our analysis of the company's cash flow statement.
CFF is a key "intermediary" between a company and its sources of capital. It also shows cash returned to shareholders through share repurchases and dividends.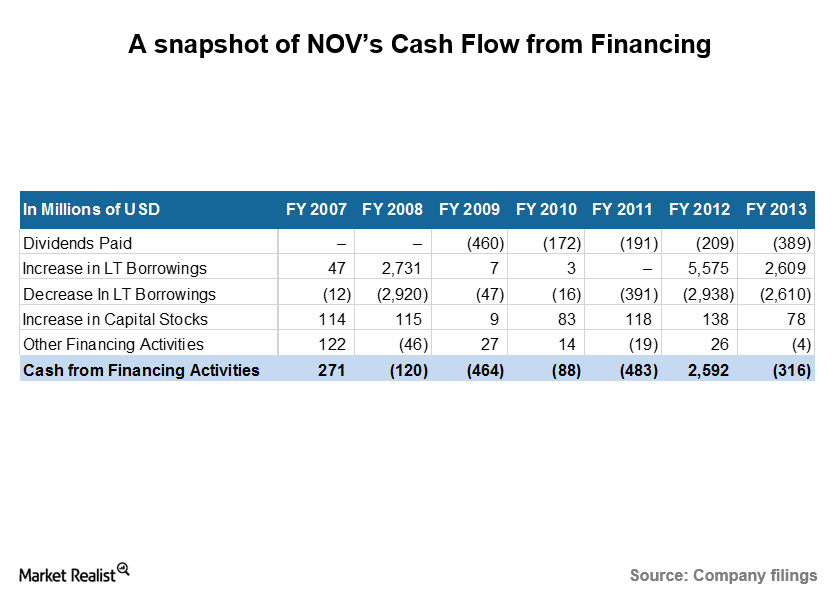 Dividends
NOV initiated dividend payments in December 2009 with a $1.1 per share payout. It continued with quarterly payouts in 2010. The payouts amounted to $0.41. The payouts were steadily raised to $0.91 per share in 2013.
NOV has already paid dividends amounting to $1.18 in the first three quarters of 2014.
Share repurchase
Although NOV has seen some small increases in capital—through the issuance of new stock—the company hasn't bought back shares in the last seven years.
Article continues below advertisement
That changed on September 30 when NOV announced a $3 billion share repurchase program. The program was spread over 36 months. The market reacted negatively to the news. The market probably viewed the move as a sign that the company isn't able to deploy its huge cash hoard more effectively in high return projects.
The repurchases will show up under NOV's CFF as cash outflows—negative numbers—in the future as it buys shares.
Long-term borrowings
The major items affecting CFF are usually long-term (or LT) borrowings and repayments. As seen in the above table, NOV has been managing its LT debts effectively with regular raises and repayments.
These activities helped keep NOV's LT borrowings below a billion dollars until 2011. See Part 6 in this series for a snapshot of NOV's balance sheet and LT debts.
NOV increased its LT debt to ~$3.1 billion in 2012. It coincided with large acquisitions in 2012 and 2013. See Part 9 in this series for a snapshot of NOV's investing activities.
Despite the large upswing in its debt, NOV's cash—and equivalents—exceeds its debts. We'll discuss this more in the next part of the series.
Key peers and exchange-traded funds (or ETFs)
NOV operates in the oil and gas service and equipment industry. It's tracked by the VanEck Vectors Oil Services ETF (OIH). OIH also counts NOV's key peers—Halliburton (HAL), Cameron International (CAM), and Baker Hughes (BHI)—among its top five holdings.