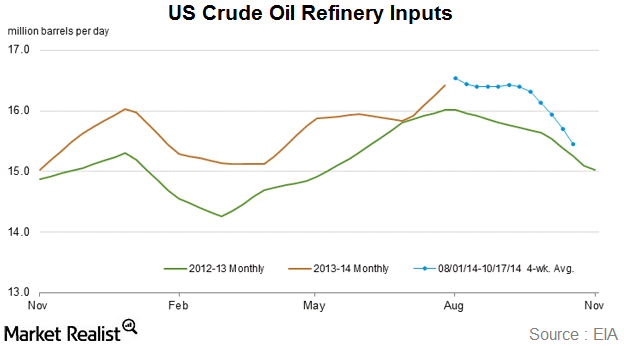 Why peak refinery maintenance season affects crude inventory
Refinery inputs
U.S. crude oil refinery inputs averaged 15.2 million bpd (barrels per day) during the week ending October 17. Input levels were 113,000 bpd less than the previous week's average.
Refinery inputs this time last year were 14.8 million bpd. Input levels had remained comfortably over 16 million bpd since July this year.
The week was the eighth week in a row of declines in crude oil runs even as more refineries close in anticipation of the coming winter.
Operating capacity
Last week, refinery input levels of 15.2 million bpd were lower than the previous week's 15.3 million bpd. As a result, operating capacity decreased by 1.4 percentage points to 86.7%.
Analysts were expecting operating capacities to drop by 0.25 percentage points. Current operating run rates of 86.7% indicate peak refinery turnaround season. These rates are the lowest since March this year.
Refinery maintenance
Refiners schedule maintenance for September and October as they transition to winter-grade fuel from summer-grade fuels. As refineries demand less crude and while crude production continues to grow, WTI crude prices will be pressured.
Why refiners enter into seasonal maintenance from September to October
U.S. refineries enter planned seasonal maintenance from September to October as the federal government requires different mixtures in the summer and winter to minimize environmental damage.
Lower prices affect profit margins for oil producing companies
Article continues below advertisement
Article continues below advertisement
As demand for crude oil lowers, oil producers might face lower WTI crude prices. Producers like Occidental Petroleum (OXY), ExxonMobil (XOM), ConocoPhillips (COP), and Chevron Corp. (CVX) anticipate that this might hurt their margins in the interim period. All these companies are components of the Energy Select Sector SPDR ETF (XLE).
Continue to the following part of this series to read about changes in gasoline inventories last week.