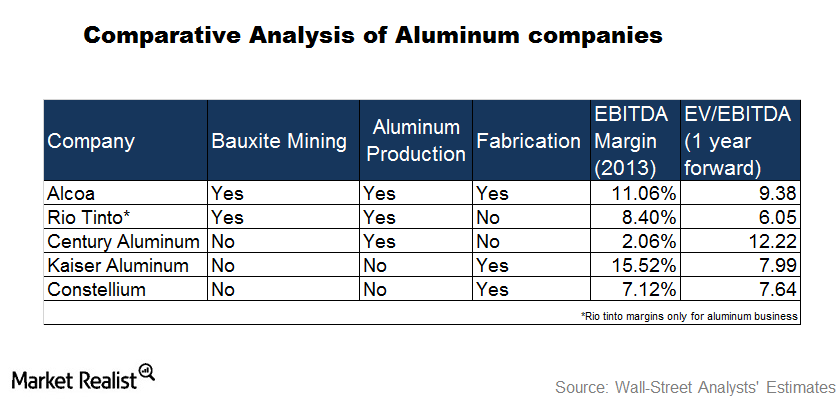 Must-know: Alcoa is placed better than other aluminum companies
Alcoa's position compared to its competitors
We discussed the aluminum value chain in the first part of the series. The aluminum process starts by extracting bauxite from the Earth's crust. The bauxite is refined into alumina. Alumina is a key raw material—along with carbon and electricity. It's used to produce primary aluminum. Then, aluminum fabricators convert the primary aluminum into specific shapes and sizes. Alcoa has a competitive advantage. It has operations across the value chain. Most of its competitors don't have operations across the value chain.
Integrated operations benefit Alcoa
Article continues below advertisement
Let's compare how having an integrated business model benefits Alcoa. Companies like Kaiser Aluminum (KALU) and Constellium (CSTM) don't have factories that make aluminum. They purchase aluminum from primary producers. Then, they fabricate it into custom shapes and sizes—according to the customers' needs. Without aluminum production facilities, they're impacted by the rise in aluminum prices. They're also impacted by premiums. We'll discuss the aluminum pricing mechanism in more detail in this series.
Century Aluminum (CENX) doesn't have access to bauxite mining. However, it does produce primary aluminum. It sources its bauxite from other companies. Bauxite is a key raw material. It's used to make aluminum. By not owning bauxite mines, Century Aluminum depends on third parties. This reduces its flexibility to manage the raw material requirements.
Rio Tinto has the lowest profit margins
Primary aluminum producers like Rio Tinto (RIO) don't have fabrication operations. The fabricated products sell at a higher price. They increase aluminum companies' profit margins. The profit margins at Rio Tinto's aluminum division are the lowest among the aluminum companies. Alcoa increased its focus on these value-added products. Its share of revenues from value-added products increased. You can read more about it here.
Having an integrated business model gives Alcoa a competitive advantage over other aluminum companies. Alcoa is part of SPDR S&P Metals and Mining ETF (XME).
Globally, the aerospace industry is one of the biggest aluminum consumers. We'll analyze Alcoa's dominant position in this key market in the next part of the series.