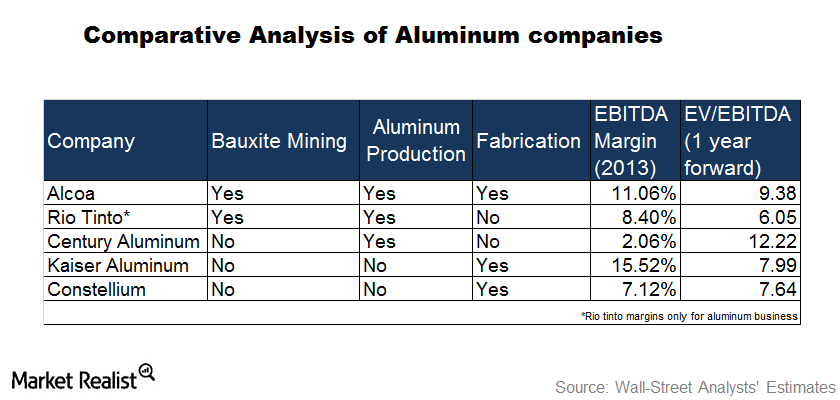 Aluminum company metrics compared
By Mohit Oberoi, CFA

Dec. 4 2020, Updated 10:52 a.m. ET
Comparing aluminum companies
Previously in this series, we described the value chain in the aluminum industry, and where various companies are placed in it. In this article, we'll analyze aluminum companies using select financial metrics. Let's find out how a company's place in the aluminum value chain impacts its financial performance.
Key metrics in the aluminum sector
The chart above shows the key metrics for aluminum companies. As you can see, Alcoa Inc (AA) is an integrated player, while Kaiser Aluminum Corp. (KALU) and Constellium N.V. (CSTM) are downstream players. Rio Tinto (RIO) is a pure-play primary producer, while Century Aluminum Co (CENX) is more of a midstream player.
Why profit margins of aluminum companies diverge

Article continues below advertisement
The chart above shows the earnings before interest, taxes, depreciation, and amortization (or EBITDA) margins for aluminum companies. The data are for the year ended 2013. As you can see, Kaiser Aluminum has the highest margins, while Rio Tinto has the lowest margins among aluminum companies. This is mainly because of different business strategies. Pure-play fabricators such as Kaiser Aluminum and Constellium sell value-added products. These products sell at higher prices than primary aluminum.
Trading on the London Metal Exchange determines the price for primary aluminum. Any increase in the price of aluminum benefits companies that produce primary aluminum. As noted, Alcoa, Rio Tinto, and Century Aluminum produce primary aluminum.
Fabricators such as Kaiser Aluminum and Constellium purchase aluminum from outside suppliers. Their unit cost of production increases when aluminum prices rise. So, a rise in aluminum prices benefits RIO, CENX, and AA. On the flip side, KALU and CSTM benefit from a fall in aluminum prices. Retail investors can add exposure to the metals industry with the SPDR S&P Metals and Mining ETF (XME).
Pure-play fabricators such as Constellium take certain steps to protect their profit margins from volatility in aluminum prices. Let's look at this in greater detail in the next article.