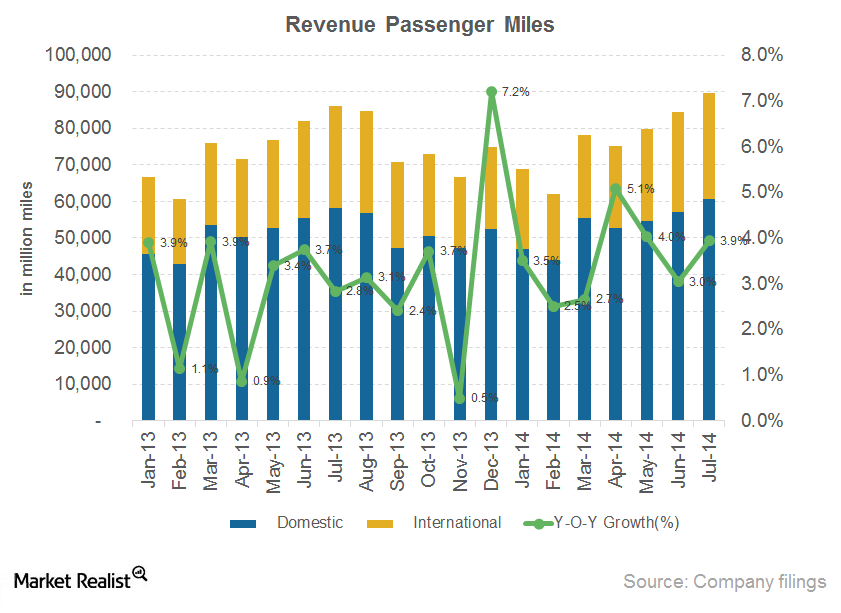 Must-know: Key indicators impacting airline industry performance
The airline industry is a cyclical one
Cyclical industries follow the business cycle, so their revenues are higher during economic prosperity and lower during economic contraction. The airline industry is sensitive to changes in economic growth. Per capita income, disposable income, and consumer confidence are key drivers of the demand because air transport depends on the state of the economy and real gross domestic product (or GDP) growth. This is the case for air travel's leisure and business segments.
As seen in the graph, capacity growth has been negative during the recession and has turned positive during the economic recovery, indicating the sensitivity of demand for air travel to economic growth.
What does this mean to investors?
It's important for investors to understand the nature and function of different industries, as their investments can be altered based on factors that influence the industry's profitability.
Article continues below advertisement
Article continues below advertisement
Cyclical industries, like the airline industry, can yield good returns during economic growth as seen in the share price performance of top U.S. airline stocks. This includes Delta Air Lines (DAL), United Continental Holdings (UAL), American Airlines (AAL), Southwest Airlines (LUV), and JetBlue Airways (JBLU) in 2013 and 2014.
However, during an economic downturn, investors will have to rely on companies in the non-cyclical industries for better returns since they cater to basic necessities—such as food, power, and water—whose demand is inelastic.
In this series, the discussion of important indicators for airline performance is intended to provide investors with a consolidated overview of trends in the airline industry. We'll cover the latest available macro-economic indicators and other indicators related to the airline industry, including demand and supply, price, capacity utilization, major revenue drivers, cost and profitability, and top airline companies' valuations.