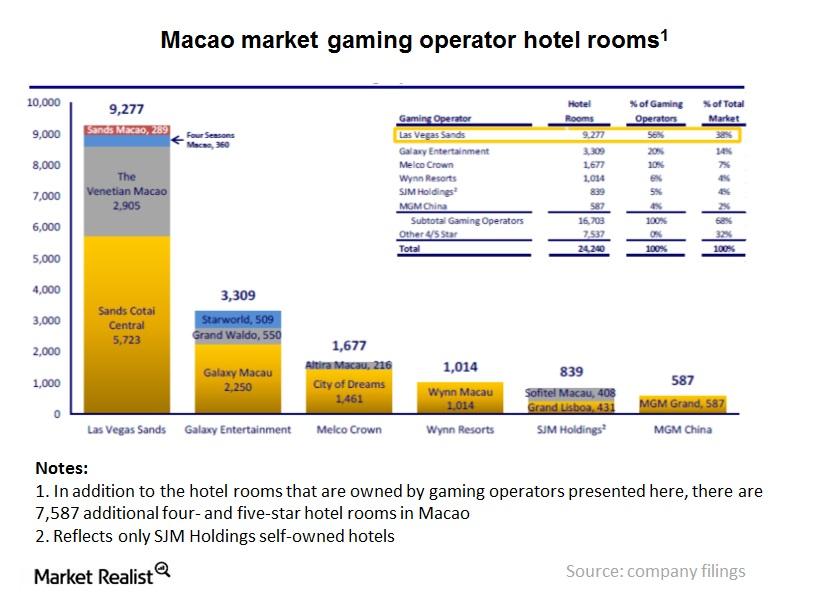 Must-know: A breakdown of Las Vegas Sands' revenue
Las Vegas Sands' revenue
Las Vegas Sands (LVS) earns revenue through casinos, hotels, food and beverages, and convention or retail operations. In this part of the series, we'll provide a detailed breakdown of LVS's revenue.
Casinos

The company's main revenue driver is casino revenue. It's generated from slot machines and table games. The above chart shows that casino revenue represents ~79% of the total revenues. In 2Q14, VIP gaming represented 63% of Macao's gross gaming revenue (or GGR). Click here to learn more about why casinos are profitable.
Article continues below advertisement
In Macao and Singapore, slot machines are usually played on a cash basis. It's important to note that ~74% of the company's table games played in Las Vegas are conducted on a credit basis. Table games played in Pennsylvania are conducted on a cash basis. In 2013, LVS had a gross margin of 43% in casino revenues.
Hotels

Hotel room revenues represent 9% of Las Vegas Sands' total revenues—as shown by the above chart. In 2013, hotel revenue gross margins were 80%. Occupancy rate is a performance indicator that's used to determine the margins. It's the average percentage of available hotel rooms occupied during a period. The average daily room rate is another performance indicator. It's the average price of occupied rooms per day. In 2013, the company had an occupancy of 85–100% for its hotels.
The above chart shows that LVS dominates Macao's hotel market. It operates 38% of Macao's current four or five‐star hotel inventory. LVS hotel inventory exceeds the other five gaming operators combined. The other operators include Melco Crown Entertainment (MPEL), Wynn Resorts (WYNN), and the MGM Resort in China (MGM). Some of these companies are components of the the Consumer Discretionary Select Sector SPDR Fund (XLY). XLY provides overall exposure to the leisure industry.

Food and beverage
Article continues below advertisement
Food and beverage contributed to 5% of the total revenues generated in 2013. LVS's demographic caters to wealthier individuals. The company hired renowned chefs for its restaurants. The restaurants are located within their establishments. In 2013, the gross margin for the food and beverage products stood at 49.4%.
Mall
LVS owns and operates retail malls at The Venetian Macao, Four Seasons Macao, Sands Cotai Central, Marina Bay Sands, and Sands Bethlehem. Mall revenue is mainly generated from leases with tenants. It's generated through base minimum rents, management fees, reimbursements for common area maintenance, and other expenditures.

Convention, retail, and other

Revenues generated from this segment contributed to 4% of the total revenues generated in 2013. The Sands Expo and Convention Center is 2.25 million square feet. It's designed to handle meetings and shows. Revenue is earned by providing guests with services to make sure that the events are executed well.