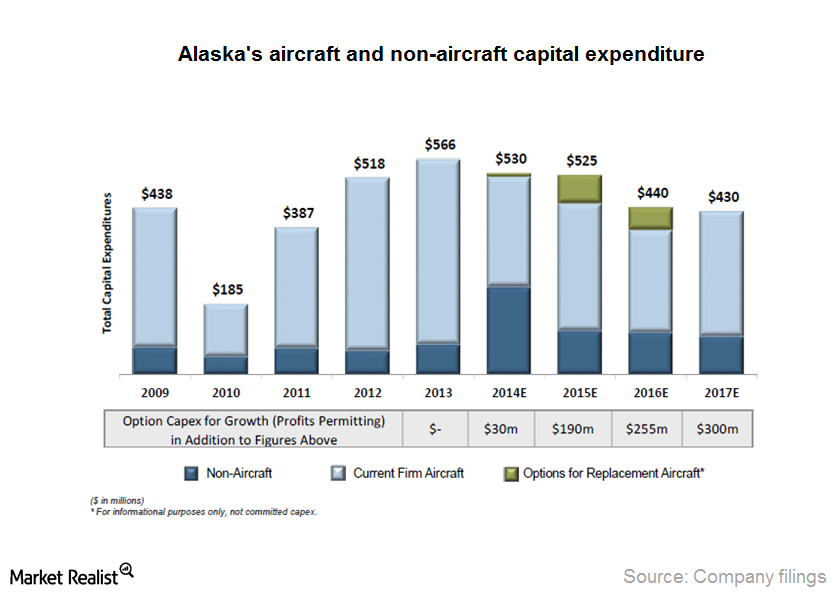 Must-know: Alaska's increasing return on invested capital
Capital expenditure

Alaska's capital expenditure (or capex) mainly includes investment on aircraft. It increased since 2010. In 2013, ~80% of the total cash used for investing activities was on capital expenditure. The total capital expenditure was $566 million. $487 million was on aircraft and aircraft purchase deposits. $79 million was on flight equipment and other property and equipment. This was due to the addition of nine B737-900ER aircraft and three Q400 aircraft during the year.
Article continues below advertisement
Alaska's firm commitments include purchasing 69 B737 aircraft through 2022. It has the option to purchase 60 737 NextGen (or NG) and MAX aircraft from 2015 to 2024. The expected capital expenditure for these investments is shown in the above graph. In 2014, the year-over-year (or YoY) growth of non-aircraft expenditure will be higher. It's expected to increase from $70 million in 2013 to $225 million in 2014. However, the options to purchase aircraft will only be exercised if the return on invested capital justifies an investment.
Return on invested capital
In 2013, Alaska's return on invested capital (or ROIC) increased from 6% in 2009 to 13.6% in 2013. It beat the 10% target for the fourth consecutive year. Since 2010, Alaska managed to improve returns with a lower capital base.
Alaska calculates return on invested capital as (EBIT + lease interest) – tax at 38%) / (average long-term debt + book equity + capitalized operating leases).
According to this calculation Allegiant (or ALGT) has the highest ROIC of 16.5%. It's followed by Alaska (ALK) at 13.6%, Delta (DAL) and Spirit (or SAVE) at 13.1%, Southwest (LUV) at 8.2%, United (UAL) at 7.4%, Hawaiian (or HA) at 6.7%, and JetBlue (or JBLU) at 6.1%.
Visit the Market Realist Airlines sector page to learn more about the airline industry.