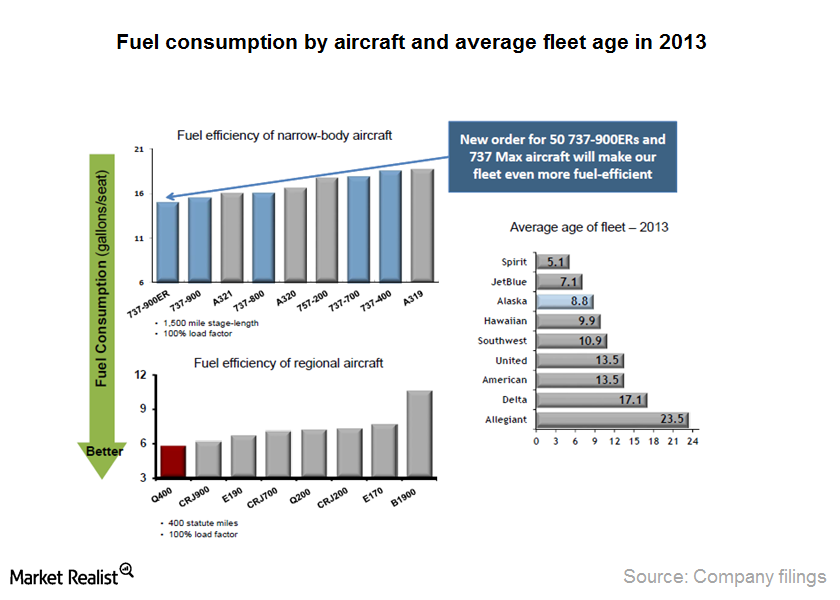 Must-know: Alaska Airlines' aircraft and fuel efficiency
Alaska Airline's aircraft
In 2013, Alaska operated a fleet of 131 Boeing 737 jet aircraft. It had contracts with Horizon, Sky West Airlines, and Peninsula Airways for regional capacity. Horizon operated 51 Bombardier Q400 turboprop aircraft. It sells all of its capacity to Alaska according to its capacity purchase agreements. Out of the 131 Boeing aircraft, 86 aircraft are B737-800/900/900 ER aircraft, 39 are B737-400/700 aircraft, and six are B737 Freighters and Combis.
Fleet replacement
Article continues below advertisement
The group's efficiency rate increased over the years. This is evident in the increase in available seat miles flown per gallon (ASMs/g) to 75.3 ASMs/g in 2013—from 72.6 ASMs/g in 2009. The average age of Alaska's (ALK) fleet was only 8.8 years—compared to Delta's (DAL) 17.1 years, American's (AAL) and United's 13.5 years, and Southwest's (LUV) 10.9 years. JetBlue (or JBLU) and Spirit (or SAVE) have an even younger fleet. Younger aircraft require less maintenance. They're also more fuel efficient.
Alaska plans to reduce fuel costs more by replacing older 737–400 and 737–700 aircraft with larger 737–900 aircraft. Fuel consumption of 737–700 and 737–400 aircraft are very high compared to 737–900 ER—as seen in the graph above. The 737–400 fleet is expected to be fully replaced by 2017.
Details on Alaska's past and future aircraft and non-aircraft capital expenditure is provided in the next part of the series. Visit the Market Realist Airlines sector page to learn more about the airline industry.