Key takeaways from the 13-week Treasury bills auction
By Phalguni Soni

Nov. 20 2020, Updated 1:00 p.m. ET
13-week U.S. Treasury bills auction held on September 15
The U.S. Treasury held the weekly auction for three-month, or 13-week, Treasury bills (or T-bills) on September 15. $24 billion worth of T-bills were on offer. The issue size was lower than the $26 billion auctioned the previous week.
The high discount rate was lower at 0.015% in the September 15 auction—compared to 0.02% in the auction held the previous week. This was the third consecutive weekly decline in the discount rate. The average discount rate for 2Q14 was reported at 0.03%—compared to 0.05% in 1Q14.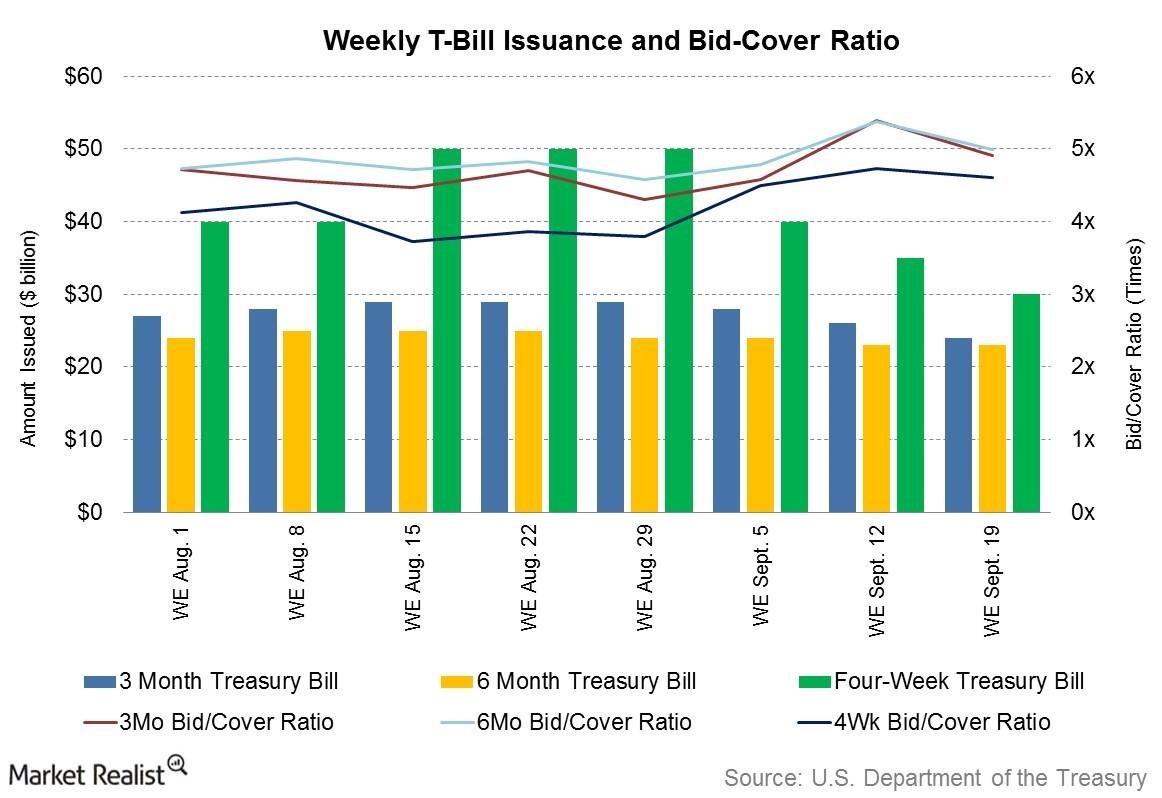 Key demand-side trends
Despite the lower issuance amount, the bid-to-cover ratio declined from 4.91x to 5.39x in the previous week's auction. The bid-to-cover ratio was higher than the average ratio of 4.64x for all auctions held in 2014.
Market demand rises
Article continues below advertisement
Market demand for the 13-week T-bills fell sharply to 18.8% of competitive accepted bids—from 31.7% the previous week. This was due to lower indirect bids. The indirect bids fell from 26.1% to 10.6% of competitive accepted bids, week-over-week. Indirect bids are a measure of overseas demand. They include bids made by foreign sovereigns, central banks, and supranational and agency issuers. As explained in the last part of the series, the appreciating dollar may have made the yields at T-bill auctions unattractive for many overseas buyers.
The ratio of direct bids was higher at 8.3%—compared to 5.5% the previous week. These bids are key indicators of domestic market demand.
The ratio of primary dealer bids increased to 81.2% from 68.4% the previous week. Primary dealers act as market makers at Treasury (SHY) auctions. They clean up excess supply relative to demand for the securities on auction. Primary dealers are a group of 22 financial broker or dealer firms that include financial institutions like JPMorgan Securities LLC (JPM) and Citigroup (C). Both JPM and C are part of the S&P 100 Index (OEF). They're also part of exchange-traded funds (or ETFs) like the SPDR S&P Bank ETF (KBE).
One-month T-bill auction
In the next part of the series, we'll analyze the key takeaways from the one-month T-bill auction held on September 16.
Visit the Market Realist U.S. Equity page to learn more about the industry.