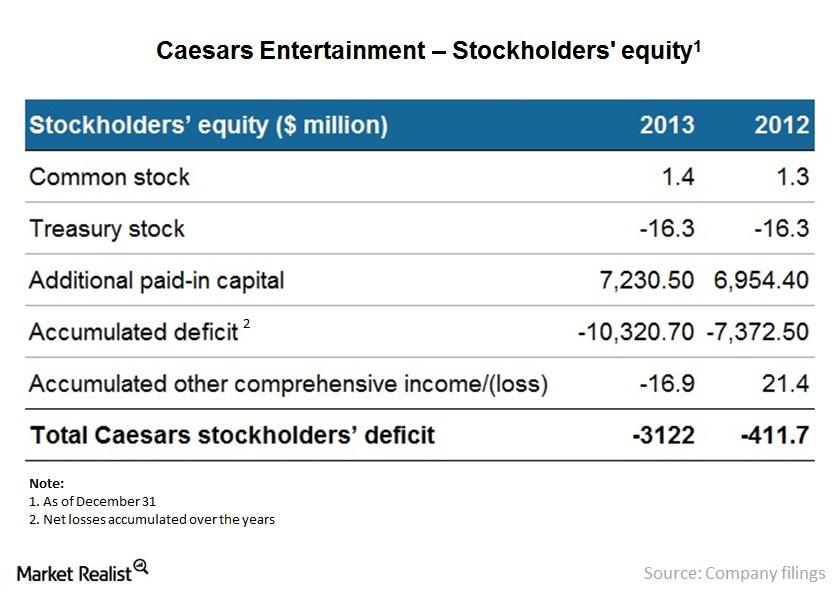 Why Caesars Entertainment's stockholders' equity is negative
How does negative stockholders' equity happen?
Caesars Entertainment's (CZR) stockholders' equity is negative, according to its latest balance sheet. Stockholders' equity consists of capital contributed and retained earnings.
Realistically, capital contributed could not be negative since it is the money the company received from selling its stock to shareholders. Retained earnings are the total of all the profits and losses that a company has generated in its life, less any dividends paid to stockholders.
Article continues below advertisement
The above chart shows that CZR's net loss has been accumulating over the last four years, and in 2012 and 2013 the tangible and intangible asset impairment charges and huge interest expense heavily impacted the net loss. This has resulted in significant negative retained earnings in 2012 and 2013, enough to completely offset the common equity and additional paid-in capital. As a result, CZR's stockholders' equity in 2012 and 2013 was negative.
CZR has been losing money, which could result in liabilities that are greater than its assets. Unlike CZR, peers like Boyd Gaming (BYD), MGM Resorts (MGM), and Wynn Resorts (WYNN) have positive stockholders' equity in their balance sheet.
ETFs like Consumer Discretionary Select Sector SPDR Fund (XLY) track the performance of these companies.

Caesars Entertainment's red flags
Negative stockholders' equity is generally considered a strong indicator of impending bankruptcy and is a major warning sign for a credit analyst. However, it could also mean that a business is in its early stages and has invested a large amount of funds in products and infrastructure that would later yield profits.
Do the stockholders owe CZR?
Negative stockholders' equity does not mean that stockholders owe money to the business, as they are only liable for the amount of funds that they invested in the company.
However, at the time of liquidation, stockholders might not receive anything in exchange for their original investments in the company's stock, though this depends on how much the company could earn by selling its assets and settling any liabilities.
Market Realist's recent article explains how minor revenue changes significantly impact a casino's firm value.