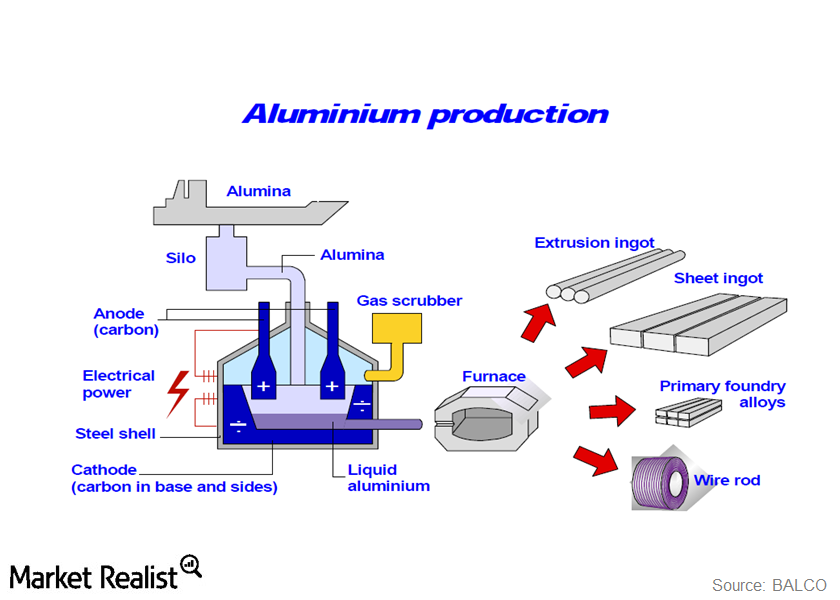 Must-know: Understanding aluminum's value chain
Aluminum value chain
After understanding aluminum's various uses and importance, we move to the value chain for aluminum companies. The aluminum industry has a value chain that consists of both upstream and downstream companies. Upstream companies are engaged in the mining and refining operations. This involves two steps. The first step is the extraction of bauxite. The second step is refining the bauxite to alumina.
Mining companies like BHP Billiton (BHP) engage in bauxite mining. The Bayer process is the commonly used process for extracting bauxite.
The downstream operations involve smelting, casting, and fabricating the refined alumina. Aluminum is given multiple shapes like bars, sheets, and foils at this stage.
Understanding the aluminum making process
Article continues below advertisement
After impurities are removed from bauxite, alumina is formed. This alumina then forms a raw material for making aluminum. The chart above shows the basic aluminum making process. As you can see, the refined alumina is treated in an electrolytic process to get liquid aluminum, which is then given different shapes and sizes.
The aluminum making plant is often called as a smelter. The process requires continuous aluminum production. Stopping production will lead to liquid aluminum solidifying in the smelter. The rebuilding exercise after aluminum has solidified is quite expensive and time consuming. So stopping and restarting aluminum production is difficult. This is important because companies can't easily stop production in downturns.
After looking at the basic aluminum making process and the value chain, we'll now move to the key raw materials required for aluminum and its impact on aluminum companies. Raw material security is a key driver for aluminum companies, which at times drives the very existence of the aluminum industry in a country.
Please note we're presenting an overview of the aluminum industry. This is a must-read series for investors of Alcoa (AA), Century Aluminum (CENX), Kaiser Aluminum (KALU), and Constellium (CSTM). SPDR S&P Metals and Mining ETF (XME) is one ETF to access the metal industry.