Overview: How Suburban measures up among its competitors
Over the past 12 months the group has had mixed results.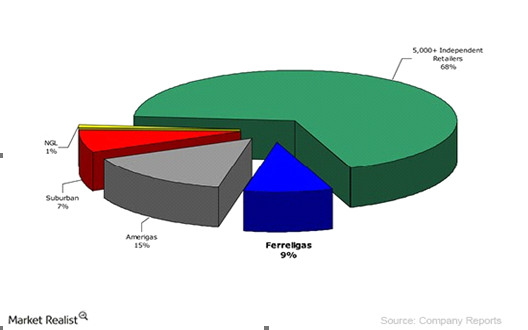 SPH versus its competitors
Suburban Propane (SPH) purchases propane to sell to the residential, industrial, and commercial end-customers. It has approximately 7% of the retail propane.
Suburban competes with AmeriGas Partners (APU) and Ferrellgas Partners (FGP). APU is the country's largest retail propane marketer, serving two million customers in all 50 states. Suburban Propane serves approximately 1.2 million residential and commercial customers through 750 locations in 41 states (primarily on the east and west coasts). FGP serves approximately one million customers in all 50 states.
Over the past 12 months the group has had mixed results. Unit prices appreciated less than 10% for APU and SPH, while FGP gained 30%.
Higher demand and low U.S. propane inventories created shortages and drove wholesale prices significantly higher making it challenging for propane distributors like Suburban to meet delivery commitments and maintain strong per-gallon prices.
Article continues below advertisement
Article continues below advertisement
Other negative factors to take into consideration are the susceptibility of SPH to significant weather changes (both warmer and colder than usual winters), the low growth in distributions (the current level of $3.50 per unit per annum is expected to remain unchanged in fiscal 2014), and the concern regarding requirements for further increases in working capital in the current quarter that will reduce cash reserves and increase borrowings, which will reduce cash available for distributions.
However, results from the first year of operations following the Inergy acquisition are encouraging, even as SPH continues to benefit from it in 2014.
SPH is a major name in the U.S. propane distribution industry. Other propane companies operating in this space include Ferrellgas Partners (FPG), Amerigas Partners (APU), and NGL Energy Partners (NGL). Suburban is a part of the Yorkville High Income MLP ETF (YMLP), an ETF that tracks select MLPs ), as well as the Global X MLP ETF (MLPA).
To learn about one more prominent name in the propane distribution industry, see the Market Realist series on AmeriGas Partners (APU).