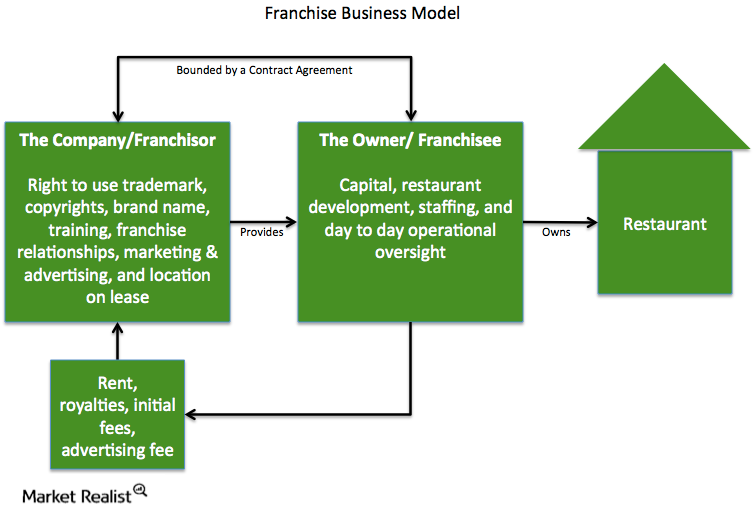 Important pros and cons of the franchise restaurant model
<p>The most common business models in the restaurant industry are for franchised and company-operated restaurants. Let&#8217;s look at the franchise model in closer detail.</p>
The franchise model
The most common business models in the restaurant industry are for franchised and company-operated restaurants. Let's look at the franchise model in closer detail.
Restaurants have successfully expanded locally and globally—and very quickly—using the franchise model. For example, restaurants like KFC, Taco Bell, and Pizza Hut under Yum! Brands (YUM) plus McDonald's (MCD) as well as IHOP, under DineEquity (DIN), and Buffalo Wild Wing (BWLD) have opted to use the franchise model.
Article continues below advertisement
Article continues below advertisement
The above chart shows you the franchise business model. The franchisor and the franchisee enter a contractual agreement to sell the franchisor's branded products. The franchisee takes on the burden of developing the restaurant, staffing, oversight of other day-to-day operations, and costs for running the restaurant. The franchisor may own the location of the restaurant and lease it to a franchisee. Usually, the franchisee pays an initial fee and a royalty from the restaurant's sales to the franchisor. They may also pay rent. The franchisor reports these incomes as revenues. Due to lower commodity costs, the margins are higher for the franchisor.
Pros and cons
The pros of this model include the opportunity for the company to grow faster. This because the franchisee provides the capital. So the franchisor faces lower risk if the store underperforms.
The company's management has more time to focus on product and operation research and less on execution. Since the restaurant is owned by the franchisee, who's highly motivated to make the restaurant a success, it also eliminates the agency issue.
The cons include the company having less control over management. The franchise is only as good as the restaurant boss, whose capital is employed in the restaurant.
You can gain exposure to the restaurant industry through the exchange-traded funds PEJ and PBJ. You can also buy individual stocks like DineEquity (DIN), The Cheesecake Factory Incorporated (CAKE), and Chipotle Mexican Grill (CMG).