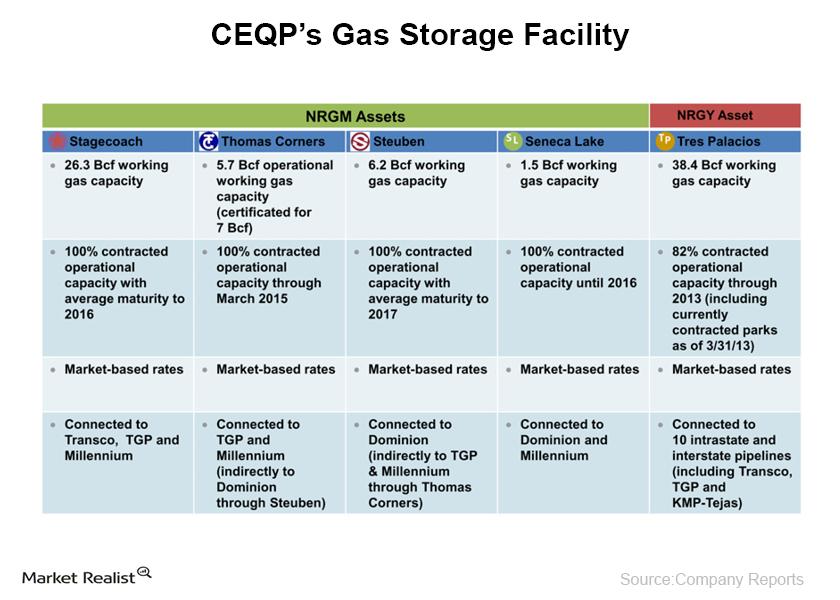 Must-know: An overview of Crestwood Equity's natural gas storage services
By Keisha Bandz

Nov. 22 2019, Updated 7:17 a.m. ET
Crestwood Equity Partners L.P.
Crestwood Equity Partners L.P. (CEQP) is engaged in the natural gas storage business as well as the natural gas liquid (or NGL) and crude oil supply and logistics business. It operates through three segments: Gathering and Processing, NGL and Crude Services, and Storage and Transportation.
The natural gas storage and transportation segment was formed after Inergy and Crestwood Midstream (CMLP) merged in 2013.
Crestwood operates five storage facilities with approximately 80 billion cubic feet (or bcf) of natural gas storage capacity serving producers in New York and Pennsylvania—primarily in Texas and in the prolific Marcellus Shale play.
Stagecoach – is located 150 miles northwest of New York City in the Marcellus Shale play connecting to Kinder Morgan Partners' Tennessee Gas Pipeline (TGP) and Transco pipeline, among others.
Seneca Lake – is located at U.S. Salt in Schuyler County, New York and between the Crestwood's Stagecoach and Steuben natural gas storage facilities. This facility is connected to the Dominion Pipeline and Millennium Pipeline.
Steuben (Adrian Field) – is located 60 miles from Stagecoach in Steuben County, New York and connects to Dominion's Woodhull line.
Thomas Corners – is located 60 miles from Stagecoach in Steuben County, New York and connects to the TGP and Millennium Pipeline.
Article continues below advertisement
Tres Palacios – is located 100 miles southwest of Houston in Matagorda County, Texas. It's adjacent to the Eagle Ford Shale play. This facility was purchased from wholly owned subsidiary, Inergy Midstream LLC. It executed a definitive agreement to purchase Tres Palacios Gas Storage LLC in 2010. It connects with ten interstate and intrastate pipelines and has approximately 38.4 bcf of working gas capacity
Financial performance
Storage and transportation segment earnings before interest, taxes, depreciation, and amortization (or EBITDA) totaled $38 million during the 1Q14—a 4% increase from EBITDA of $36.7 million in the 4Q13. The improved performance was due to increased revenues resulting from higher market prices and increased volatility attributable to the sustained colder weather throughout the Northeast in the first quarter.
However, overall market demand at Tres Palacio remained weak for the quarter because natural gas spreads haven't improved that much. Tres Palacios was a costly acquisition and hasn't been as profitable as excepted.
Major players in natural gas storage include PAA, NKA, and CEQP, all of which are master limited partnerships (or MLPs). PAA is part of the Alerian MLP ETF (AMLP), and CEQP is part of the Global X MLP ETF (MLPA).