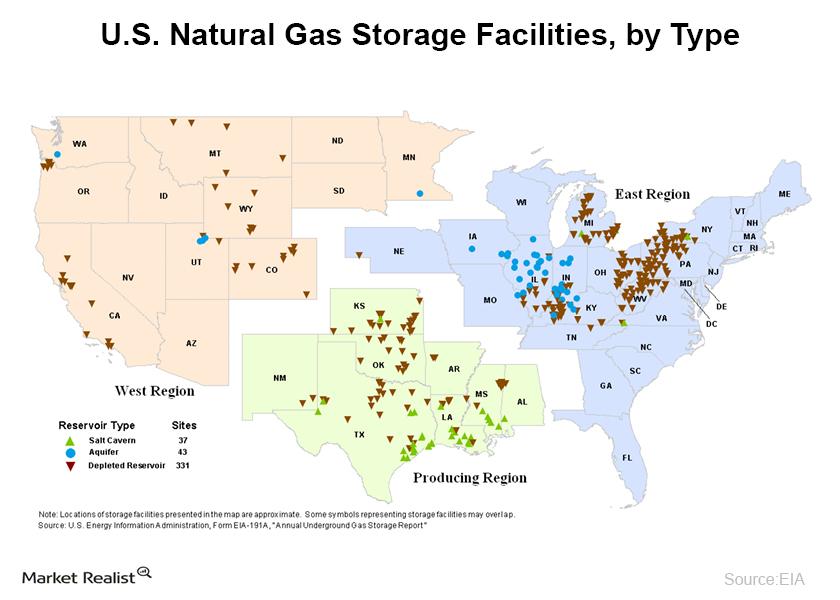 Must-know: Natural gas storage in the U.S.
Natural gas
Natural gas is a clean-burning energy fuel used for heating, cooking, and electricity generation. In the U.S., it's primarily used as a source for electricity generation. Natural gas competes with coal, which is also another major source of electricity generation.
Natural gas storage
Natural gas can be stored for an indefinite period of time for later consumption. In the U.S, natural gas is usually stored during periods of low demand or in the summer months. It's withdrawn from storage during peak demand or in the winter months. The long-term demand for storage services in the U.S. is driven primarily by the long-term demand for natural gas and the overall lack of balance between the supply of and demand for natural gas on a seasonal, monthly, and daily basis. In general, as the overall demand for natural increases demand for natural gas storage services would also grow.
Types of underground storage
There are three principal types of underground storage sites used in the U.S. today. They are:
depleted natural gas or oil fields
aquifers
salt caverns
In 2010, the U.S Energy Information Administration (or EIA) estimated that there were 331 depleted natural gas or oil fields, 43 aquifers, and 37 salt caverns.
Users of natural gas storage facilities
The principal owners and operators of underground storage facilities are (1) interstate pipeline companies, (2) intrastate pipeline companies, (3) local distribution companies (or LDCs), and (4) independent storage service providers.
Interstate pipeline companies use storage facilities to balance load variations. Intrastate pipeline companies use storage facilities for load balancing and to serve their end-customers. LDCs primarily use natural gas facilities to serve their customers directly.
Article continues below advertisement
Additionally, there are midstream pipeline master limited partnership (or MLP) businesses like Kinder Morgan Energy Partners (KMP), Rose Rock Midstream (RRMS), and Brookfield Infrastructure Partners (BIP) that own and operate their own storage facilities. KMP is a part of the Alerian MLP ETF (AMLP), while RRMS is a part of the Global X Junior MLP ETF (MLPJ).
The following sections in this series focus on how natural gas contracts are usually structured.