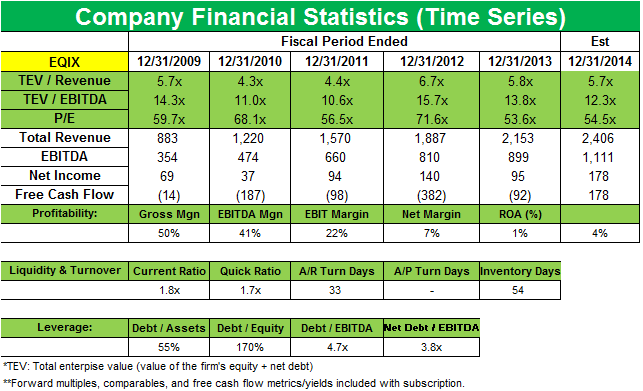 Stephen Mandel's Lone Pine Capital buys a new position in Equinix
By Samantha Nielson

Nov. 20 2020, Updated 12:40 p.m. ET
Lone Pine Capital and Equinix
Lone Pine initiated new positions in Actavis PLC (ACT), LPL Financial Holdings (LPLA), Adobe Systems Inc. (ADBE), Equinix Inc. (EQIX), and Jazz Pharmaceuticals PLC (JAZZ). Top positions the fund sold were Dollar Tree Inc. (DLTR) and American Express Co. (AXP).
Lone Pine initiated a new position in Equinix (EQIX) last quarter that accounts for 1.81% of the fund's total 1Q portfolio. Lone Pine had exited the position in 4Q 2013 and restarted it last quarter.
Article continues below advertisement
Equinix is a global interconnection and data center company. It offers premium data center colocation, interconnection, and exchange and outsourced IT infrastructure services in 32 markets around the world. Exquinix's customer count increased 9% to approximately 6,047 as of March 31, 2014, versus approximately 5,550 as of March 31, 2013. Equinix said its Americas revenues derive primarily from colocation and related interconnection offerings, and EMEA and Asia-Pacific revenues derive primarily from colocation and managed infrastructure offerings.
Shares rise on a positive IRS ruling for CBS Outdoor
Equinix shares rose in April after CBS Corp. (CBS) announced a favorable IRS ruling for its advertising company's, CBS Outdoor's, REIT application. Lamar Advertising (LAMR) too received IRS approval for a REIT conversion. In September 2012, Equinix's board approved the conversion to a REIT, and the conversion is scheduled to complete in January 2015. In November, both Equinix and its peer, Iron Mountain Inc. (IRM), said the IRS is proceeding to evaluate their eligibility. A REIT conversion is expected to benefit the company, since REITs pay lower taxes and higher dividends than other companies. Equinix believes it's eligible for REIT status "based on both existing legal precedent and the fact that other data center companies currently operate as REITs." These include CoreSite Realty (COR), Digital Realty Trust (DLR), and DuPont Fabros Technology (DFT).
Article continues below advertisement
A Nomura analyst noted, "This (CBS' IRS ruling) is positive for Equinix because it signals the IRS is again issuing PLRs for REIT conversions after temporarily halting the practice in 2013. After a difficult 2013, we believe the 2014 guidance set by management is achievable in this low global growth environment."
Results top estimates with data center expansions
Equinix's 1Q 2014 results topped estimates. Revenues were up 12% year-over-year to $580.1 million for the first quarter. Recurring revenues, consisting primarily of colocation, interconnection, and managed services, were up 11% to $549.7 million for the first quarter. Monthly recurring revenue (MRR) churn, which is a key metric for Equinix that measures the predictability of its business, was 2.3%—unchanged from the previous quarter and lower than prior guidance. Non-recurring revenues were $30.4 million in the quarter. Non-recurring revenues primarily comprise installation services related to a customer's initial deployment and professional services by Equinix. The company expanded its IBX data centers in the Americas, EMEA, and Asia Pacific and Equinix expects continued growth from revenue generated by the recently opened IBX data centers and additional expansions during the remainder of 2014 and 2015.
Management said on its earnings call, "The network vertical delivered consistent growth with new bookings from service providers who are expanding their portfolio of cloud service and simultaneously upgrading our infrastructure. Content also delivered strong bookings this quarter driven by global expansions from large players and continued growth of the advertising exchange or the Ad-IX ecosystems." In April, Equinix officially launched its Ad-IX ecosystem for ad tech companies to facilitate faster ad bidding and ad delivery.
Equinix also said it repurchased approximately 732,000 shares of its common stock under the $500 million share repurchase program authorized in December 2013 at an average price of $173.46 per share for total consideration of $127.0 million through April 25, 2014.
Equinix's Cloud Exchange launch should benefit from cloud opportunities
Article continues below advertisement
For 2014, a significant part of Equinix's strategy and innovation investment aims at capturing the longer-term opportunity associated with cloud computing. Cloud is creating massive disruptions in the IT supply chain at an accelerated pace and will create opportunities across all of the company's verticals. Equinix's management said, "We are experiencing a dramatic increase in traffic within the data center as enterprises leverage virtualized infrastructures and move data and applications into hybrid cloud architectures." They added, "Cloud and IT services remains our fastest growing vertical delivering 15% year-over-year revenue growth."
In April, Equinix launched the Equinix Cloud Exchange, an advanced interconnection solution for direct access to multiple clouds and multiple networks across the globe. The exchange combines the automated interconnection of cloud, network, and managed service providers with advanced service orchestration, providing enterprises with simple, scalable, direct access to the multiple cloud services they need to build highly flexible hybrid cloud solutions. The service aims to provide faster performance, better reliability, increased security, and quicker and easier deployment of cloud applications.