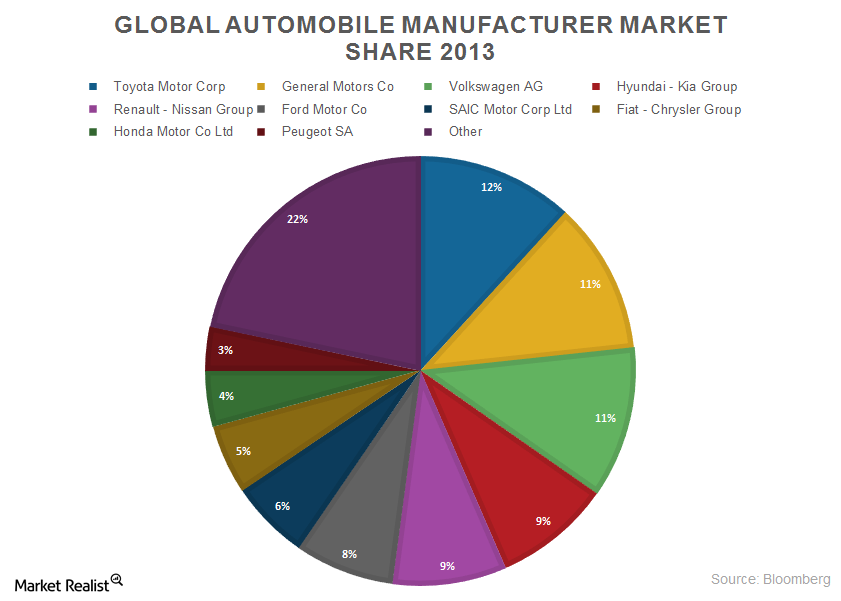 A must-know investor's guide to Ford Motor Company
Ford Motor Company
Ford Motor Company (F) designs, builds, and sells automobiles worldwide. It is the second largest U.S.-based automobile manufacturer and the sixth largest globally, based on units sold.
Ford dates back to the early 1900s, with Henry Ford developing the precursor to the spark plug for his race car in 1903. This allowed him to start his second car company, which became the Ford Motor Company we know today. Ford's real innovation was the assembly line, which according to Ford's website, reduced production time from 12 hours to 1.5 hours. This productivity improvement led to Ford gaining on nearly half the U.S. automobile market. Ford expanded globally early on and remains a global manufacturer.
Article continues below advertisement
There are a couple unique aspects to Ford. The Ford family maintains the company's voting control through a special share class. Another noteworthy fact is that it did not file for bankruptcy like General Motors and Chrysler did during the economic downturn. Ford mortgaged its assets in 2006 to raise a $23 billion credit line. This allowed the company flexibility to ride through the economic storm. Ford benefited from a new union contract signed in the downturn reflecting UAW concessions. Ford continues to restructure its operations to improve profitability.
Ford (F) and the Standard & Poors 500 index ETF (SPY) is shown in the chart above. While SPY increased 111%, from approximately $90 per share to $190 per share, Ford increased 220%, from approximately $5 per share to $16 per share over the past five years. This reflects the market's concern if Ford was going to stay out of bankruptcy in December 2009. The chart above captures Ford recovering from it's recent nadir of $2.29 per share.
Recent trading off reflects market concerns of recall liabilities and weakness in Asia, unfunded pensions and an oversupplied global market.
First we'll look at Ford's strategy and then dig into its revenue and earnings to see how GM compares to other industry players. Next, we'll look at the company's financing structure. Then we'll turn to the equity markets to see how Ford is being valued against its peers. We'll provide a look at the risks and opportunities for Ford. This series is an overview of Ford and how it stacks up against its peers including General Motors (GM), Toyota Motor Corporation (TM), the BMW Group (BMW), and Volkswagen (VOW). An investor may also gain industry exposure through the ETF CARZ.