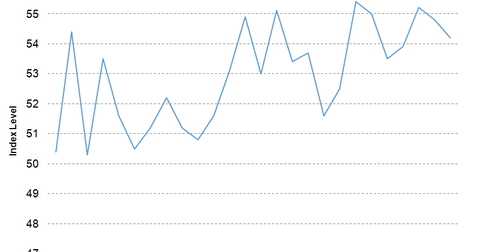 Why the consumer confidence rose on the FOMC meeting's conclusion
By Sandra Nathanson

Updated
The FOMC meeting
Among the last month's economic announcements, the FOMC meeting (March 18-19) was largely watched by the market and investors. The FOMC revised its economic projections on the gross domestic product growth and unemployment rate, indicating an expected decline in the unemployment rate at 6.3% for the year 2014 from the current levels of 6.7%. This, in turn, has boosted the consumer confidence as declining unemployment levels are highly correlated with the strength in the economy. The Conference Board's Consumer Confidence Index, which compiles a survey of consumer attitudes toward the economy, was at 82.3 level compared to 78.3 levels in February, 2014. The gain was led by strong showings in two sub components, expectations for future business conditions and expectations for future employment.
Article continues below advertisement
The monthly Consumer Confidence Survey Index is based on a probability-design random sample. The survey is conducted by Nielsen, a leading global provider of information and analytics who keeps a track on what consumers buy and watch. The index randomly samples about 3,000 U.S. household's spending.
The assessment on current conditions according to the index was slightly down as many consumers indicated a difficult job market. Buying plans were also low for both vehicles and houses.
At present inflation is at 1.1%, which is hindering the economic growth. With the expectation on the inflation to grow by 1.6% by the end of 2014 and 2.0% by 2015—the threshold set by the Fed to start raising the interest rate—the economy is expected to revive. However, the expectation on the rise in the interest rates has negatively impacted the bond market (BND) last week—the bond prices declined. Stock markets (SPY) continued to grow under the assumption that the strength in the economy will drive corporate profits and share prices.
The major stock market ETF that tracks the performance of the largest publicly listed companies by market capitalization is SPDR S&P 500 (SPY). The ETF seeks to provide investment results that match closely to S&P 500 Index and has top holdings in Apple, Inc. (AAPL), Exxon Mobil Corporation (XOM), and Google, Inc. (GOOG).