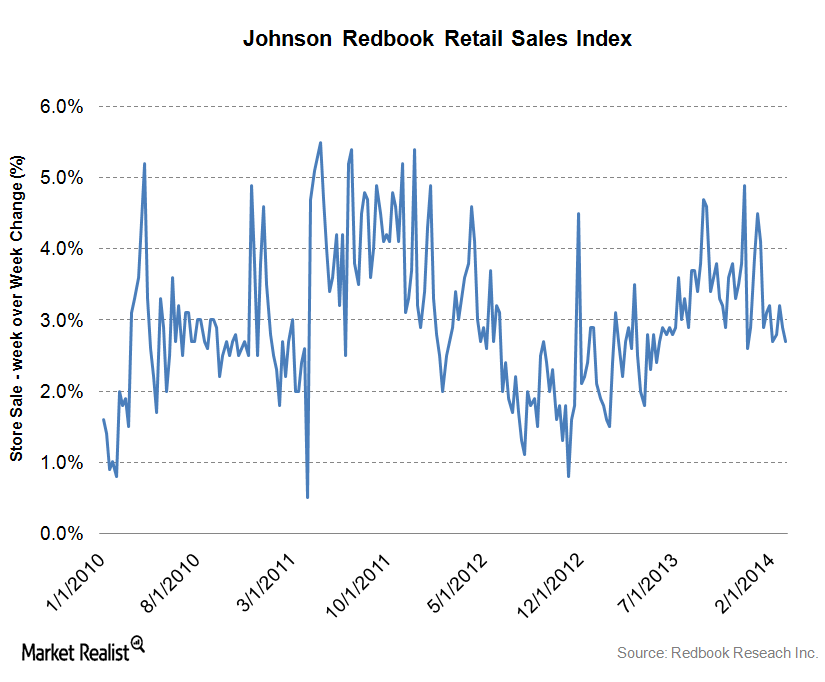 Must-know update: Redbook Index same-store sales data released
The Redbook Index reported the same-store weekly data on Tuesday, March 11, 2014. As per the latest weekly reading, the same-store sales rate has declined to 2.5% from 2.9% in the previous week. The index has been mostly declining since the beginning of 2014, suggesting a decrease in consumer shopping moods. The harsh weather conditions in the past few months also impacted the consumer spending.
A trend has been noticed in the Redbook Index that indicates higher sales mostly in the month of April and during May–August (the U.S. summer break). An early spring is essentially a period which starts from the end of March and continues into April. The period is a much awaited season as the country recovers from the harsh cold weather conditions. Retailers run discounts in the stores to drive sales higher, with Easter and other holidays around the corner. Similarly, the shopping bonanza remains high on particular weeks during Christmas and New Year, when discounters, departments, and other retail chain stores roll over heavy discounts.
Reverse trend
In the past few years, the trend has reversed. Consumer spending has been very low even during the holiday seasons due to persistently high unemployment rate. Unemployment rate is the percentage of the labor force that seeks for a job but does not have one.
Article continues below advertisement
Unemployment rate in the U.S. increased in the wake of recent financial crisis, hitting its peak at 9.5%. The rise in the unemployment rate was the combination of failed government policies, the U.S. housing bubble, and the sub-prime mortgage crisis. Theoretically, the personal consumption expenditure (Core PCE Index) and the unemployment rate move in the opposite direction. An increase in the unemployment level leads to a decline in the PCE Index. This impacts the nation's retail sales, as consumer are left with less or no money to spend on discretionary activities.
Plus, continued decline in the retail consumer spending is a bottleneck for economic growth. The stock market (SPY) moves in tandem with the economic growth, which means when the economy expands, business activity perks and the unemployment rate goes down. Other things being equal, the situation may lead to high interest rates, which leads to a fall in the bond prices (BND).
The Redbook Index covers large retail corporates, and a decrease in the index adversely impacts the share price and valuation of the giant retailers including Wal-Mart (WMT), Target Corporation (TGT), Costco Wholesale (COST), Walgreen Company (WAG), and Macy's, Inc, (M) to name a few.